Rental Housing Business Newsreel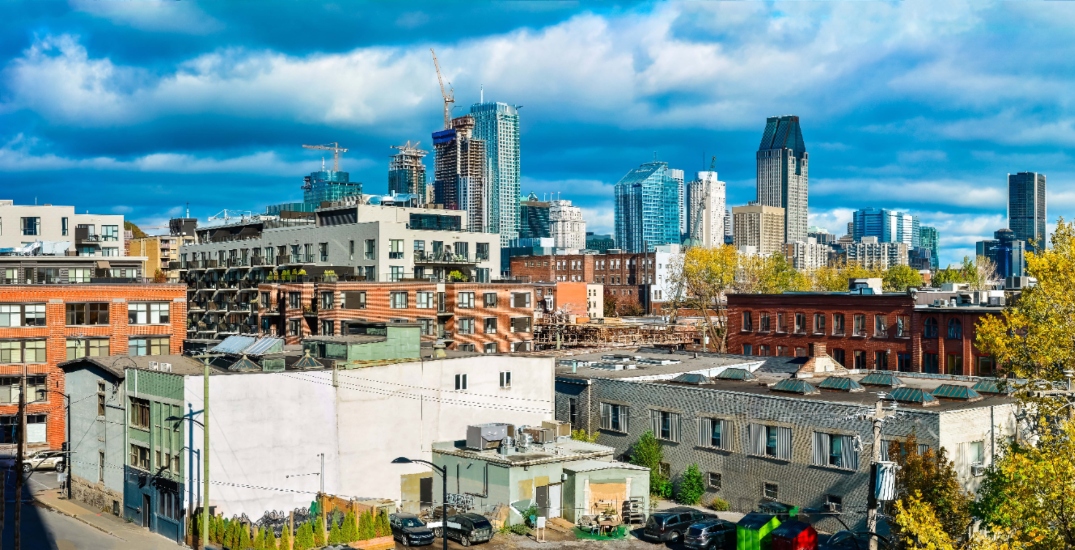 Montreal has been granted $100 million to renovate more than 500 low-rental housing units (LRH) across the island. In a Wednesday afternoon press release, the Canada Mortgage and Housing Corporation announced the deal. In collaboration with the Quebec and Canadian government, the Office municipal d'habitation de Montréal (OMHM) says 517 units will be renovated, several of which are "currently boarded up." Depending on the scope of the renovations required in the various buildings, the work...
read more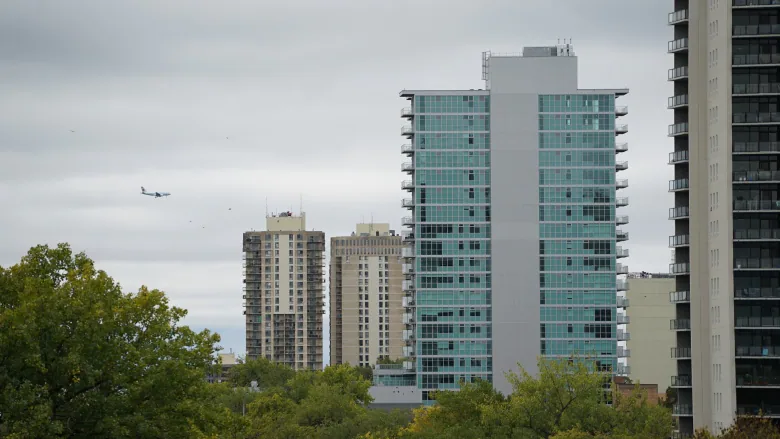 You may have heard it's a seller's market when it comes to Winnipeg real estate right now. But owners of some rental properties are offering incentives just to get potential tenants into their apartment buildings, due to a high rental vacancy rate in the city. That rate increased to almost four per cent by the end of 2020, compared to just over three per cent in 2019, according to the Canada Mortgage and Housing Corporation's annual rental market report. As in many cases over...
read more
Barrie's politicians are setting the bar high when it comes to how they want the city to evolve, to grow and become far more inclusive when it comes to creating a true multicultural community. During a recent webinar hosted by the Toronto chapter of the Urban Land Institute (ULI) entitled Barrie: The Changing Face and Space, Mayor Jeff Lehman laid out a blueprint that will see the community be transformed in an assortment of different ways. From a single home sales perspective, there is no...
read more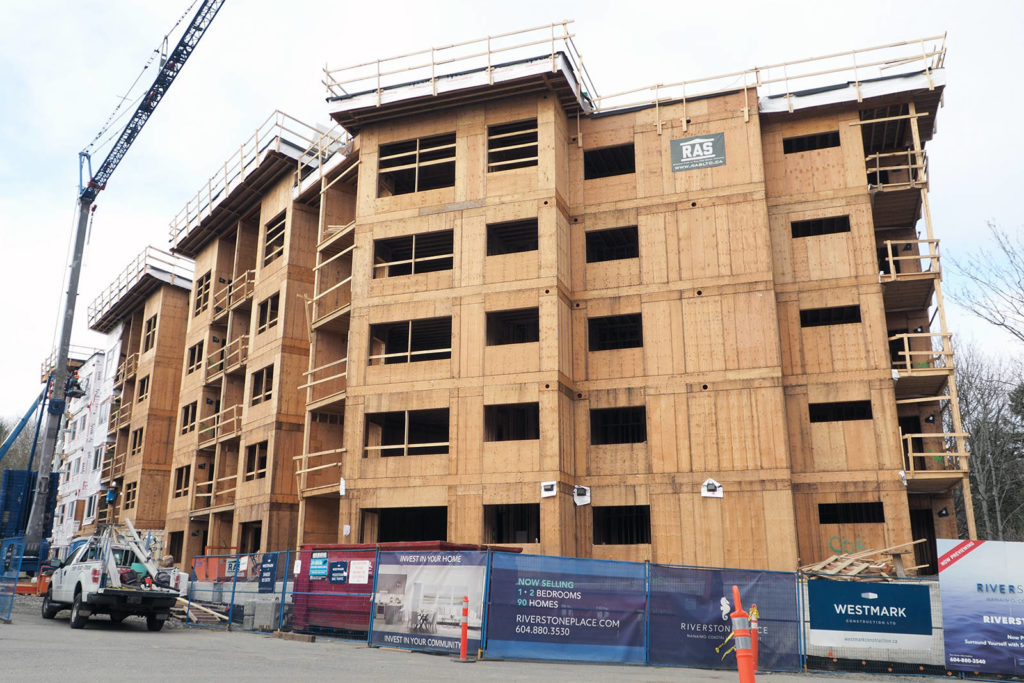 Despite construction of hundreds of rental housing units, Nanaimo's rental vacancy rate still sits at one per cent. City councillors, at a meeting Monday, were updated on Nanaimo's affordable housing strategy. The strategy was adopted in 2018 to increase the supply of rental housing, support infilling of housing in existing neighbourhoods, diversify housing and support low-income and special-needs housing. According to the update, presented by city social planner Karin Kronstal, housing starts...
read more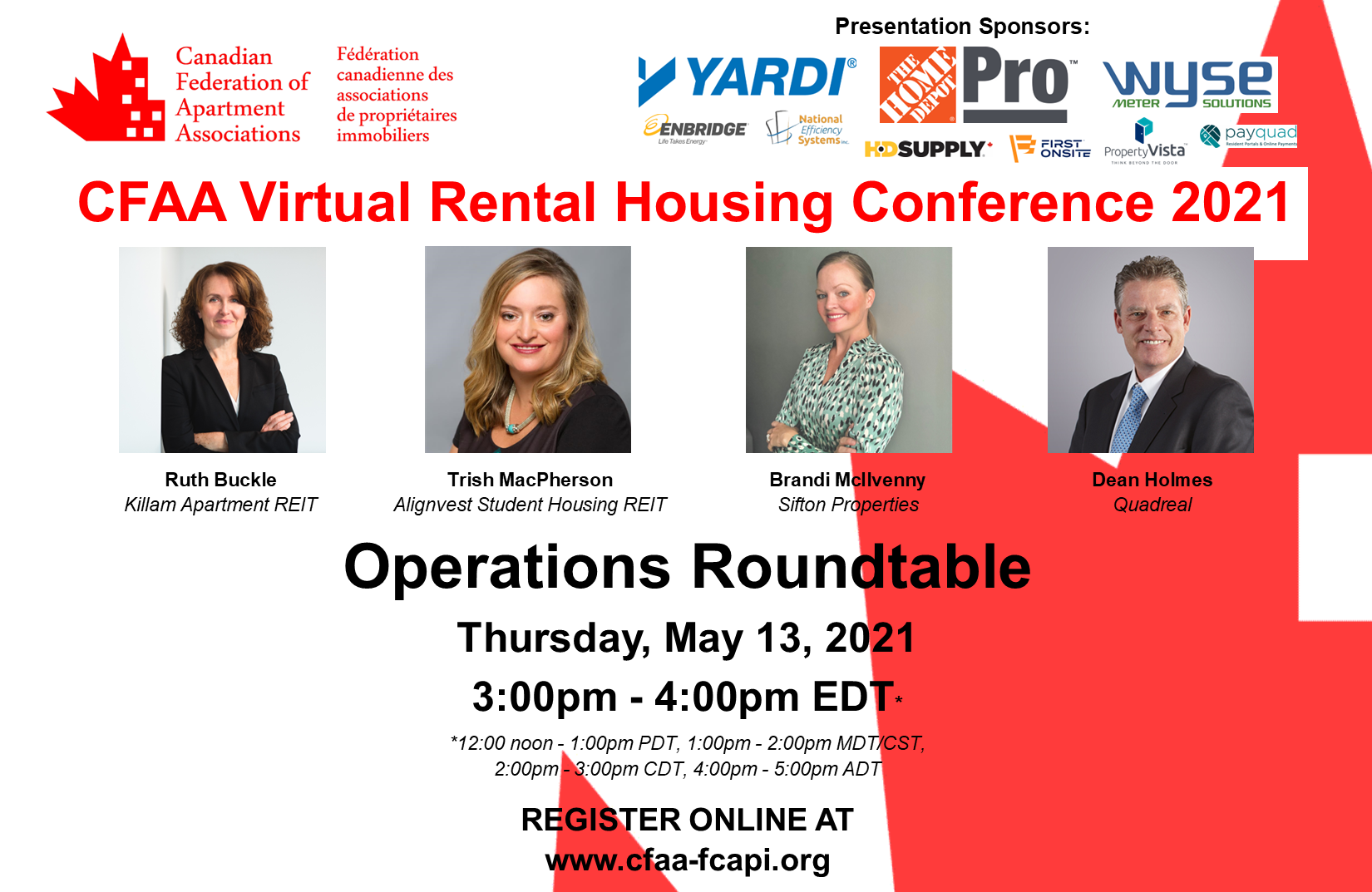 The Operations Roundtable will take place this Thursday (May 13) from 3:00 to 4:00 pm* EDT. *(12:00 to 1:00 pm PDT, 1:00 to 2:00 pm MDT/CST, 2:00 to 3:00 pm CDT, 4:00 to 5:00 pm ADT) The event will open at 2:30 pm EDT, and will remain open until 5:00 pm EDT, to allow for additional networking with attendees, sponsors and the panelists. Panelists: Ruth Buckle, Senior Vice President, Property Management, Killam Apartment REIT Trish MacPherson, Partner, Alignvest Student Housing REIT Brandi...
read more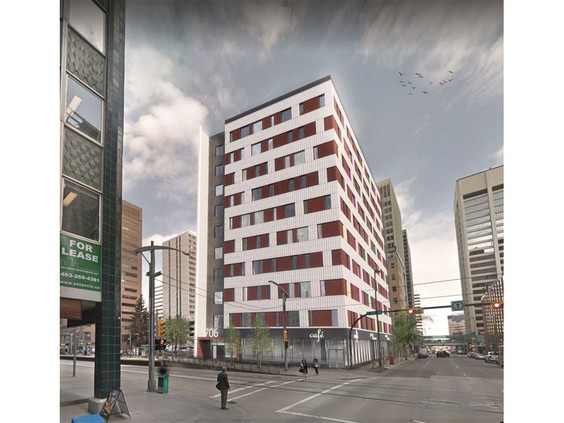 Bernadette Majdell, CEO of HomeSpace Society, has praise for a city council decision to approve a $5.5-million grant allowing a vacant downtown office tower to be transformed into affordable-housing rental units. Sierra Place, on the corner of 7th Avenue and 6th Street S.W., is to be stripped down, spruced up and converted into 108 residential units. The building was owned by Artis REIT but has been empty for two years. Chris Howard, vice-president of Capital Markets Group at Avison Young,...
read more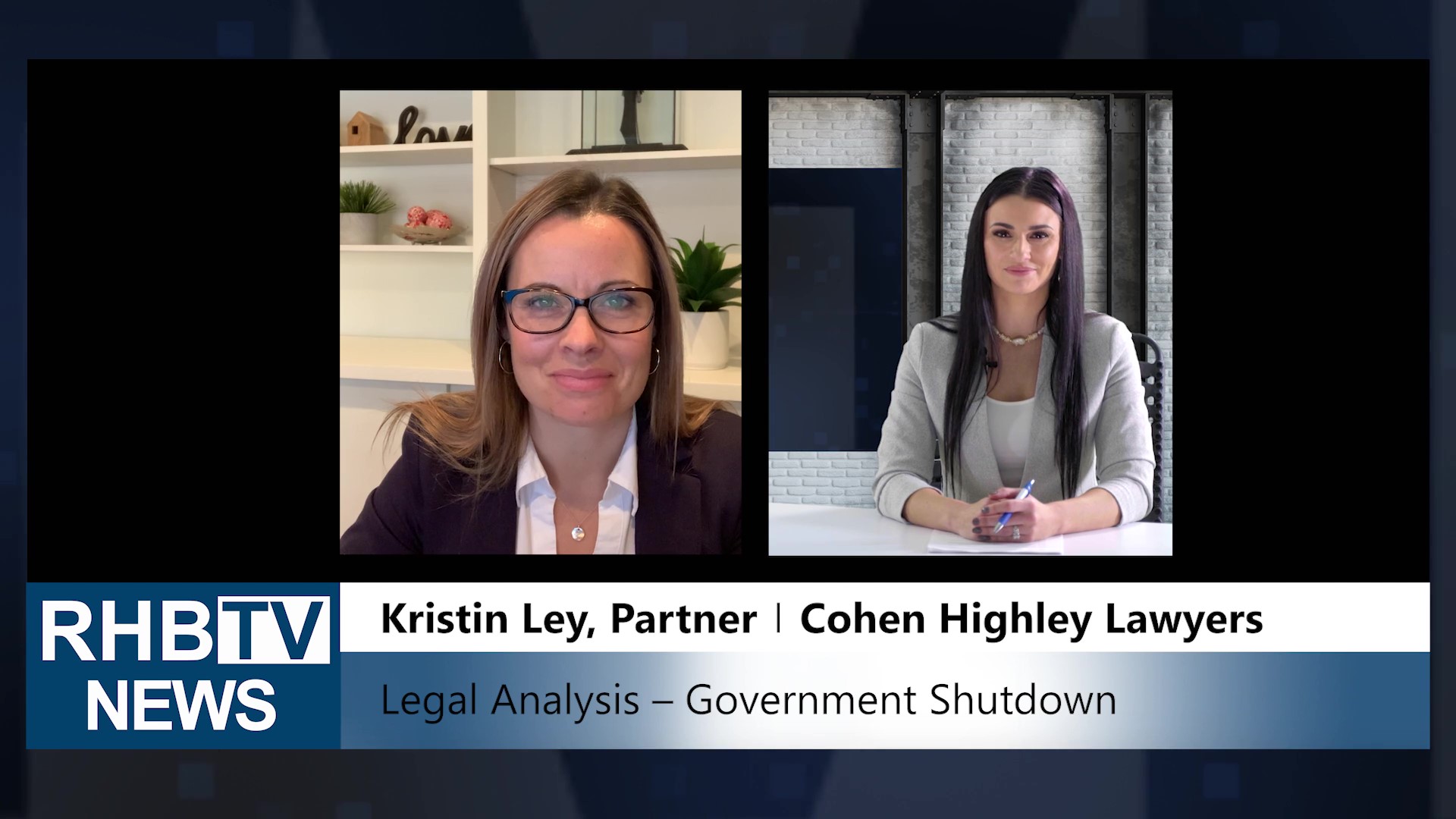 During these difficult and trying times, RHBTV and Kristin Ley, Partner Cohen Highley want to help with legal questions from anyone in our industry. Watch the video announcement below and don't forget to send in your questions
read more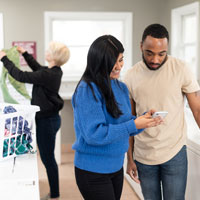 It's easy to forget sometimes that the rental housing business is competitive. Renters come and go. But maybe they don't have to! If you view your market as competitive, it becomes easier to look at your own property with new eyes. Are you positioning the property to not just attract new residents, but also providing the services and environment to retain them? If the answer is no, it's time for a refresh. One area that can pay dividends in attracting and retaining residents is the laundry...
read more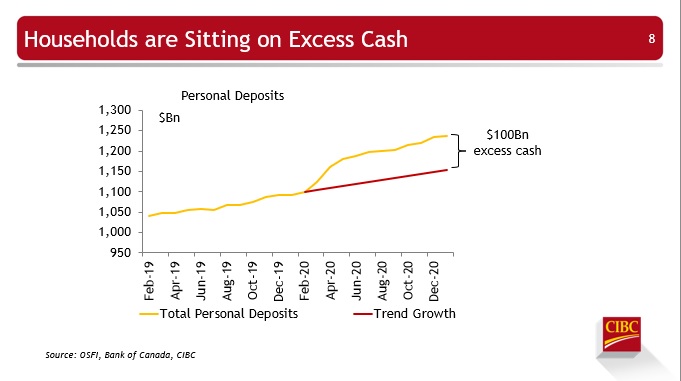 As governments continue rolling out the vaccine and the country heads towards reopening, it's important we get a good financial picture. Recently, Benjamin Tal, Deputy Chief Economist for CIBC World Markets, gave an insightful presentation to kick off the 2021 CFAA Virtual Rental Housing Conference. Benjamin explained that Canada is starting from behind economically, compared to the US. Our economy is doing worse during the pandemic than the US, due to Canada's tighter restrictions to reduce...
read more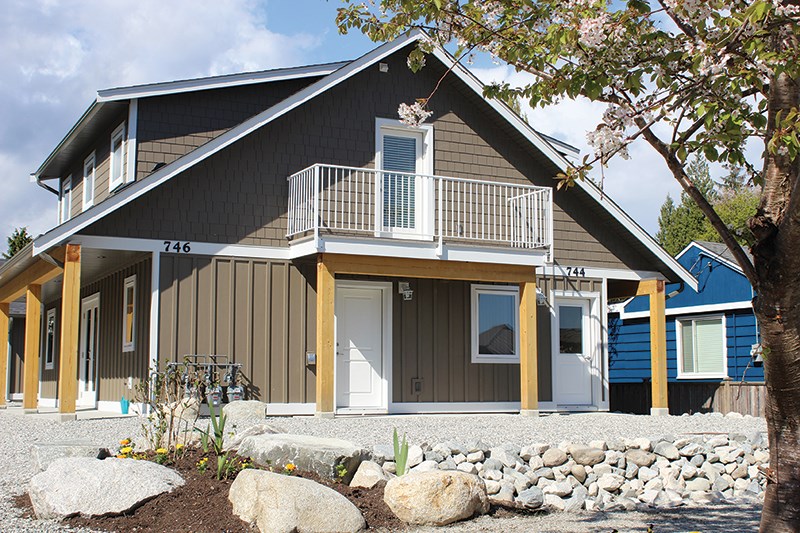 Three families will be moving into a small-scale affordable rental housing development in Gibsons over the weekend, marking the first "mixed-income model" housing project on the Sunshine Coast. The three-unit development, located on Franklin Road, is a pilot project developed with BC Housing "to test smaller housing projects that can easily fit into existing neighbourhoods with minimal impact," according to a release by the Affordable Housing Society, which oversaw the project. The development...
read more