Association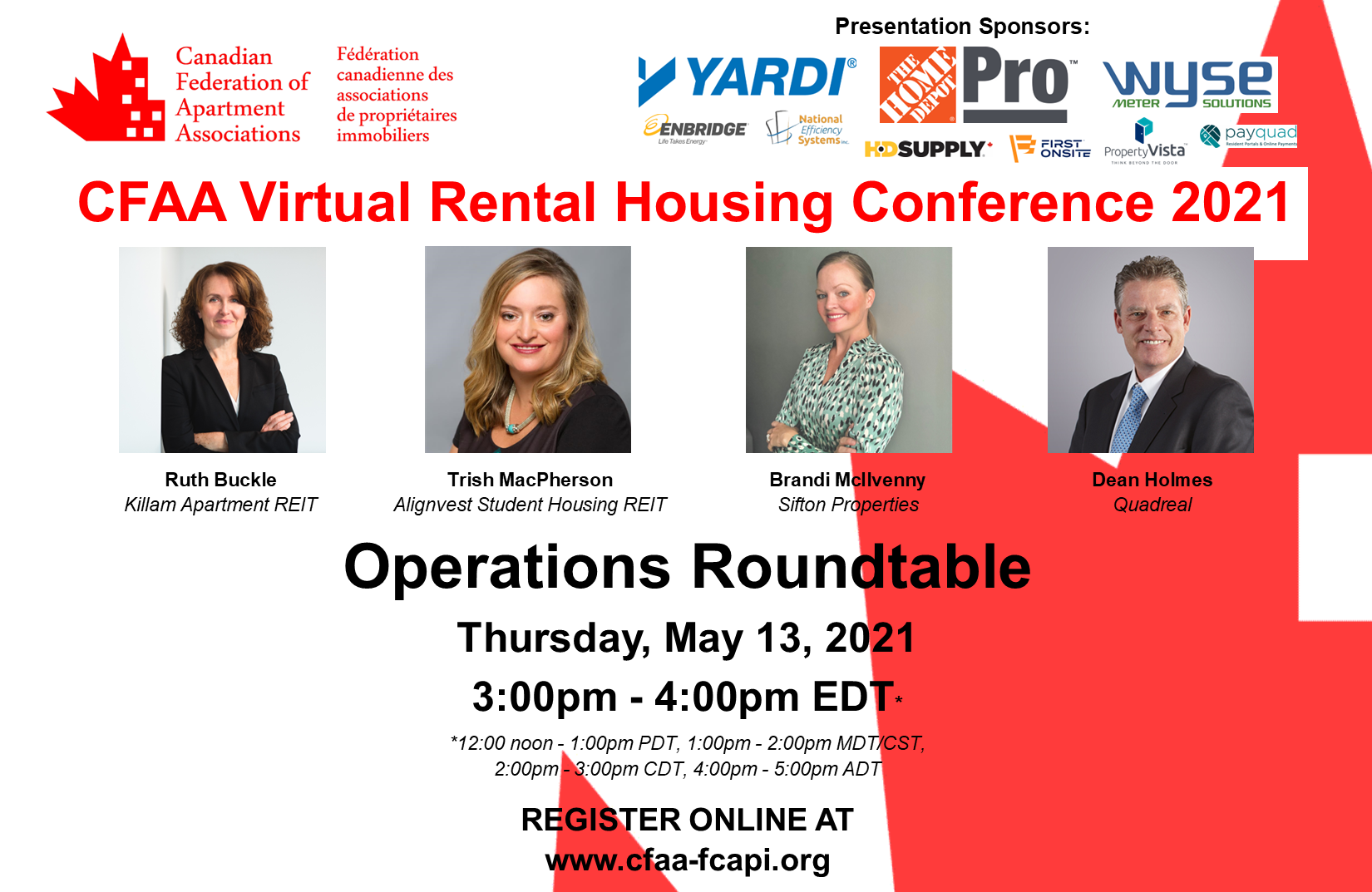 The Operations Roundtable will take place this Thursday (May 13) from 3:00 to 4:00 pm* EDT. *(12:00 to 1:00 pm PDT, 1:00 to 2:00 pm MDT/CST, 2:00 to 3:00 pm CDT, 4:00 to 5:00 pm ADT) The event will open at 2:30 pm EDT, and will remain open until 5:00 pm EDT, to allow for additional networking with attendees, sponsors and the panelists. Panelists: Ruth Buckle, Senior Vice President, Property Management, Killam Apartment REIT Trish MacPherson, Partner, Alignvest Student Housing REIT Brandi...
read more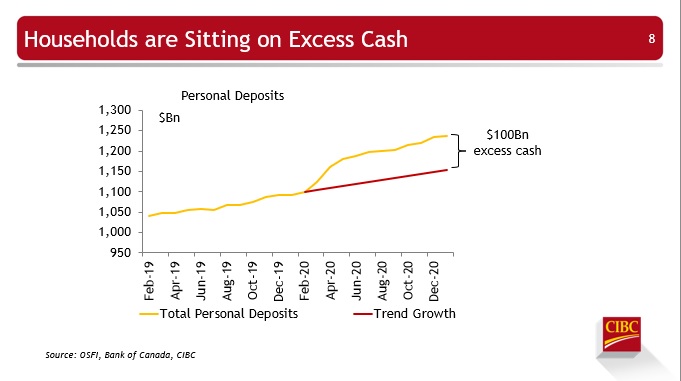 As governments continue rolling out the vaccine and the country heads towards reopening, it's important we get a good financial picture. Recently, Benjamin Tal, Deputy Chief Economist for CIBC World Markets, gave an insightful presentation to kick off the 2021 CFAA Virtual Rental Housing Conference. Benjamin explained that Canada is starting from behind economically, compared to the US. Our economy is doing worse during the pandemic than the US, due to Canada's tighter restrictions to reduce...
read more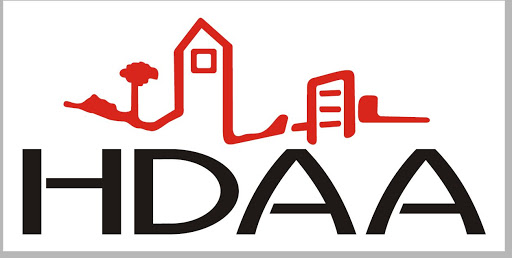 After nearly two decades as the President of the HDAA, Arun Pathak has decided it is time to step down as President of the assocation. Arun has been instrumental in shaping the association over the years and has been a strong advocate for housing providers not only locally but provincially and federally as well. We are very fortunate to have had him leading the association over these many years. We are excited to announce that Tina Novak will be taking over the role of President of the...
read more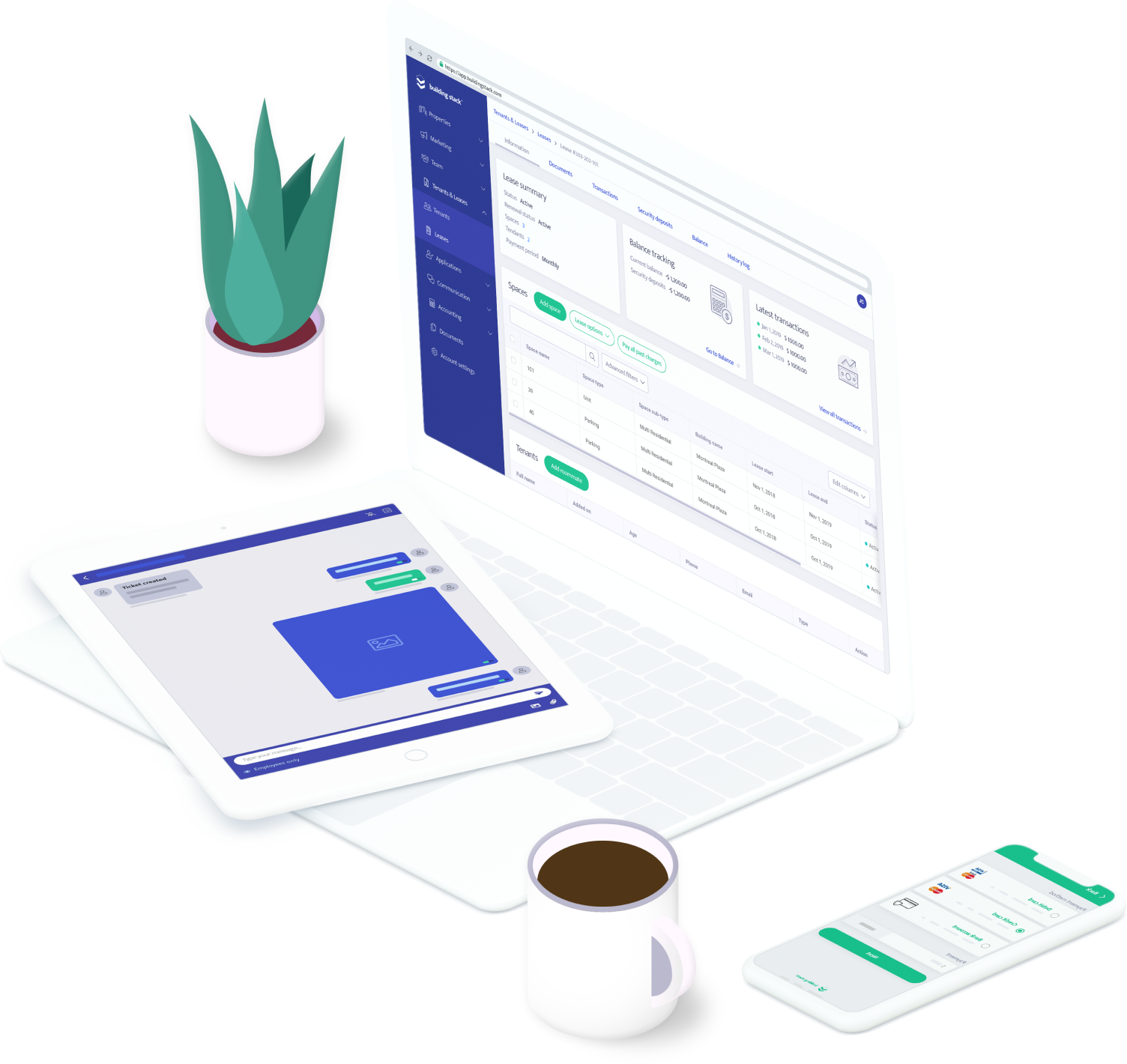 Over Zoom, CFAA recently hosted a panel addressing "Technology Updates for COVID-19 and beyond", with different perspectives, under the skilled moderation of Darren Henry, of National Efficiency Systems. Dean Holmes from QuadReal represents a large owner-manager. Paul Smith from DMS is a fee manager with 60 separate clients, who have different tastes in reporting and technology use. Heather Brady from Yardi brought the perspective of a leading technology supplier. The initial COVID-19...
read more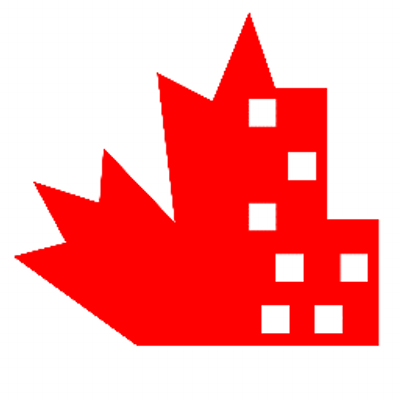 Congratulations to all the finalists and winners of the CFAA Rental Housing Awards 2020! CFAA thanks the judges, everyone who entered the Awards Program this year, and the Awards Presentation sponsors. This program could not take place without your interest and support. Rental Housing Provider Awards Rental Housing Provider of the Year – Under 7,500 Units Winner:               Shiplake Properties Shiplake Properties' COVID-19 response program went above and beyond to help residents with rent,...
read more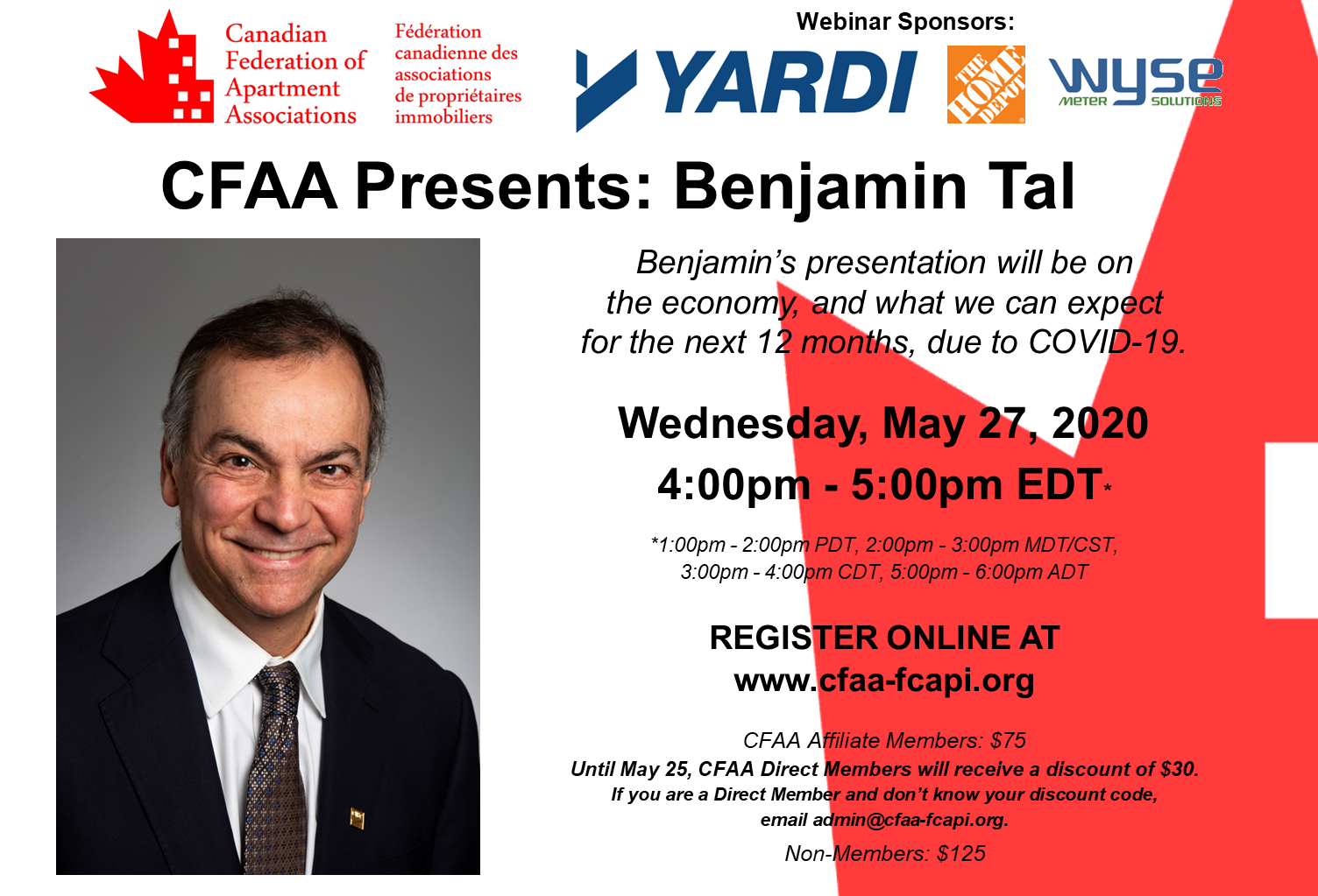 Benjamin Tal is the Deputy Chief Economist at CIBC World Markets. Well-known for his ground-breaking published research on topics such as labour market dynamics, real estate, credit markets, international trade and business economic conditions, Benjamin not only contributes to the conversation, but frequently sets the agenda. Benjamin's presentation will be on the economy, and what Canadian rental housing providers can expect for the next 12 months, due to COVID-19. WEDNESDAY MAY 27,...
read more
We're all in this together and we all need to help each other. RHB Magazine and CFAA understand that COVID-19 is cutting into rent collections at your properties. This survey will help CFAA and Canada's provincial apartment associations to advocate for better rules and programs so that you will receive your rents. View Survey HERE
read more

As the CFAA Awards Program is conducted completely online, it will continue for 2020, despite COVID-19 concerns. However, we understand that many people are working from home, and may not have access to all the files they need to complete their applications. As a result, we are extending the deadline for applications to Monday, May 4. Additionally, as a precautionary measure due to COVID-19, this year's Rental Housing Awards WILL NOT include an Awards Dinner. Winners will still be...
read more

Due to concerns over the COVID-19 situation, and in the best interest of our staff and attendees, CFAA has decided to cancel CFAA-RHC 2020 in Halifax from June 8 to 10, 2020. CFAA is looking into alternate options, such as on-line content and webinars, that would still allow us to bring you the valuable information from our education sessions, speakers and sponsors. Stay tuned for further updates! We expect that CFAA-RHC 2021 will take place in person and will follow the usual format. More...
read more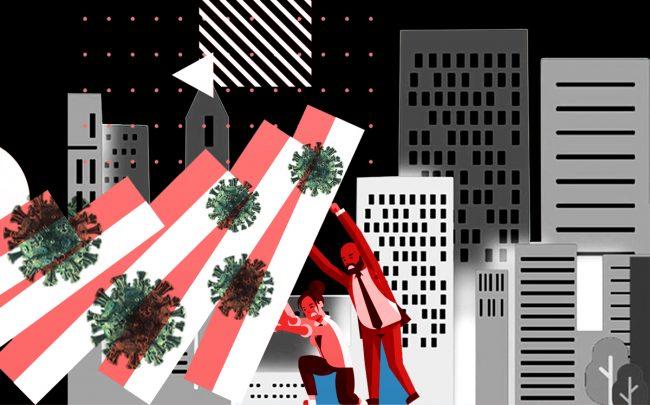 The Government of Canada is taking action to help Canadians facing hardship as a result of the COVID-19 outbreak. Canada's COVID-19 Economic Response Plan, will provide up to $27 billion in direct support to Canadian workers and businesses. Along with other action, the Government is taking these steps which are relevant to many tenants and the rental housing providers who provide their homes. Temporary Income Support for Workers and Parents directly affected Waiving the one-week waiting period...
read more