WHAT ARE RENT STRIKES – AND DO THEY WORK?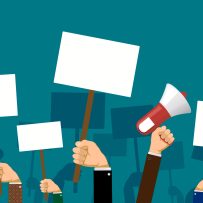 In Toronto, about 200 residents of a highrise are on strike — they're refusing to pay rent. It's their form of protest against the owners of the building, where longtime tenants have experienced six above-guideline rent increases in the past decade.
In another part of the city, more than 100 tenants in an apartment complex have stopped paying rent to protest proposed above-guideline increases of almost 10 per cent over the last two years, according to a tenant advocacy group.
The strikers are saying enough is enough. And it's not the first time tenants in Canada have staged a rent strike.
More than 300 tenants in 12 buildings in the Toronto neighbourhood of Parkdale went on strike for three months in 2017 — and successfully fought a substantial rent increase. It happened again in Hamilton, Ont., the following year, though with a different outcome.
Rent strikes in Canada are on the increase — and with good reason, says Ricardo Tranjan, a political economist with the Canadian Centre for Policy Alternatives in Ottawa.
"It's a bold move," Tranjan, author of The Tenant Class, said in an interview with CBC News. "I think it speaks to how much they have been pushed to the limit by the overall housing situation and by a specific landlord that they would take such bold action to withhold rent."
But such strikes are not without risks. Here's what a rent strike entails, and what one could mean for tenants.
What's a rent strike?
A rent strike can be as simple as it sounds — a group of tenants refusing to pay their rent until their conditions are met.
Oftentimes, they involve tenants of a building banding together to take action on their own. Other times, tenants officially form a union and collaborate with housing advocates or other activists. Their efforts can be financially supported through donations or membership dues.
In the case of one of the groups of tenants currently on strike in Toronto, the York South-Weston Tenant Union is an umbrella group of smaller tenant associations. It invites people to become members for free but also encourages optional contributions.
The tenants on strike are asking their landlord to drop an application for another above-guideline rent increase, along with compensation for services they have lost during construction.
Maintenance is also a common issue for tenants who wage rent strikes.
Are rent strikes new?
Rent strikes have a long history in Canada and other countries. In the 1860s, tenant farmers on Prince Edward Island formed a union and waged a rent strike against absentee farmers; the Island's government eventually took over the land.
Tenants have staged strikes throughout the world, and throughout history, including strikes in Glasgow's tenement buildings in the 1880s, in Barcelona in 1931 and in Harlem, N.Y., in 1963-4. And in the United Kingdom, university students launched a string of rent strikes between 2015 and 2018.
Rent strikes surfaced again as an issue in Canada and the United States during the COVID-19 pandemic, when many lower-income workers lost their jobs and could not afford their rent. Ontario's labour movement got involved in a "no COVID evictions" campaign.
The pandemic was a galvanizing moment, Tranjan said.
"It became a very clear moral conundrum," he said. "Should we allow people to be evicted because we had to shut down the economy for public health reasons?"
Are rent strikes successful?
Success can be difficult to measure — but generally, yes, Tranjan said. Tenants don't always get what they want by striking, but the action can result in negotiations with a corporate landlord and provide a more equal balance of power, he said.
Strikes can also mobilize resources, shift public opinion and inspire others, Tranjan said.
Will there be more rent strikes to come?
Absolutely, said Cory Pater, a staff member with PEI Fight For Affordable Housing. The grassroots group works with tenants to address their rights and the island's lack of affordable housing.
"It makes me hopeful for the first time in a little while when it comes to the situation of tenants," he said in a Zoom interview. "Rent strikes like these, taking organized action with your neighbours, is the best way to keep rents at an affordable level."
When you interrupt the profits of corporate landlords, they take note, he said.
What's the risk?
While rent strikes are noble, they do come with risks. Tenants could face eviction or lower credit scores if they refuse to pay rent — not to mention the stress they endure, often for months at a time.
But Pater said it's worth it.
"It's risky, but so is not taking collective action of that sort," he said.
"I mean, a lot of people who are in the position to do an action that is that extreme are in a position where if the rent goes up, they're going to lose their home anyway. If you lose your home, that can put you in a situation where you're not really too concerned about your credit score."
Story by: CBC News