Rent Increase Guideline for 2019 is 1.8%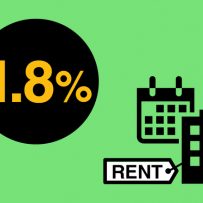 The rent increase guideline is 1.8% for increases between January 1 and December 31, 2019.  This is the maximum a landlord can increase most tenants' rent during a year without the approval of the Landlord and Tenant Board.
The guideline applies to most private residential rental units covered by the Residential Tenancies Act.
In most cases, the rent for a unit can be increased 12 months after:
the last rent increase

a tenant first moves in
A tenant must be given written notice of a rent increase at least 90 days before it takes effect.
A sample calculation:
The monthly rent was $1,000 on June 1, 2018. The guideline for 2019 is 1.8%. Therefore:
an increase of 1.8% on $1,000 = $18.00

$1,000 + $18.00 = $1,018.00
The landlord could lawfully increase the rent payment 12 months later on June  1, 2019 up to $1,018.00 per month, with written notice provided at least 90 days before June  1, 2019.
Oddly, this 'technical calculation' was not formally announced this year.  It is not on the Ontario government's news site.