Poloz Says Bank of Canada Will Proceed 'Cautiously ' on Rates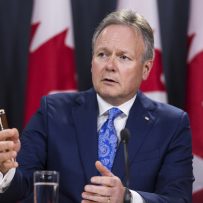 Bank of Canada Governor Stephen Poloz said he will proceed "cautiously" as he gauges the impact of two interest rate increases on the economy.
Even amid the strongest growth spurt in more than a decade, Poloz said in a speech it's still not clear whether the economy has run up against the sort of capacity constraints that would warrant higher borrowing costs from here, particularly with inflation and wage growth sluggish. That means the Bank of Canada won't move ahead on interest rate hikes mechanically and will be watching data closely for clues, he said.
"There is no predetermined path for interest rates from here. We will continue to feel our way cautiously," Poloz said his speech, his first since the central bank began raising interest rates in July.
His comments — which triggered a 1 percent drop in the Canadian dollar as investors pared expectations for another rate rise this year — underscores how the path to rate normalization has become a delicate balancing act for Canada. Policy makers anticipate they will eventually need to hike interest rates as the economy emerges from the oil shock and runs out of room to grow, but are wary of moving too quickly, for fear of doing doing unnecessary harm.
Debt and the Dollar
For one, highly indebted households are likely to suffer the most, acting as a new drag on the recovery. Higher interest rates — especially if they are out of step with borrowing costs elsewhere — also tend to drive up the Canadian dollar, hurting exporters.
Poloz cited both concerns, as part of a list of uncertainties, in the speech titled "The Meaning of Data Dependence," delivered in St. John's, Newfoundland. "The appropriate path for interest rates in this situation is very difficult to know, because there are a number of important unknowns," he said.
The governor raised interests rates in July for the first time in seven years, and then again earlier this month, bringing the Bank of Canada's benchmark rate to 1 percent. Those two moves in effect reverse the two rate cuts Poloz made in 2015 to help the economy cope with the oil price collapse.
"At a minimum, that additional stimulus is no longer needed," Poloz said.
Swaps trading suggests investors have been pricing in as many as three more rate increases by the end of next year, which would represent one of the most hawkish policy stances among developed economies.
One side effect of that has been a surge in the Canadian dollar, known as the loonie, that has raised concern at the central bank. In a speech last week, Deputy Governor Tim Lane flagged the concern explicitly and the currency was flagged again Wednesday by Poloz, who said policy makers "watch closely" movements of long-term interest rates and the Canadian dollar. He said currency changes could have an impact on the inflation outlook.
The loonie — which has appreciated about 10 percent since early May as the central bank adopted a tightening policy — had its biggest one-day decline since January, falling to 1.2480 per U.S. dollar at 4 p.m. in Toronto.
Poloz's speech also underscored the challenges the central bank has had in bringing inflation back up to its 2 percent target, which may be an indication there is more excess capacity in the economy than projected or it could reflect other factors such as technology.
Other puzzles in the data cited by Poloz include the "moving target" nature of full capacity, the impacts of technology on inflation, the sluggishness of wage growth, the impact of rate increases on highly indebted households and geopolitical concerns such as trade protectionism. All this adds up to a lot of uncertainty.
"In such an environment, we simply cannot rely mechanically on economic models," he said. "It does mean we need to use them with plenty of judgment, informed by data, sentiment indicators and intelligence, as we go through the delicate process of bringing inflation sustainably to target."
(An earlier version of the story corrected the timing of Bank of Canada's adoption of a tightening bias.)
— With assistance by Greg Quinn