Bank of Canada Keeps Key Rate of 0.5%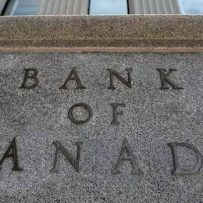 Greg Quinn, Bloomberg Business
The Bank of Canada kept its key interest rate unchanged and said the economic recovery is unfolding as expected, with momentum from non-energy exports and the weaker currency helping to contain the damage from lower oil prices.
In a decision released Wednesday from Ottawa, policy makers kept the benchmark rate on overnight loans between commercial banks at 0.5 percent, where it's been since July. All 33 economists in a Bloomberg survey predicted no move.
"The economy continues to undergo a complex and lengthy adjustment," policy makers led by Governor Stephen Poloz said in a statement. "This adjustment is being aided by the ongoing U.S. recovery, a lower Canadian dollar and the Bank's monetary policy easing this year."
Inflation risks "remain roughly balanced," the central bank said Wednesday, reiterating previous statements. The consumer price index has advanced by less than 2 percent all year while so-called core prices have remained above that as a weaker dollar makes imports more expensive.
Canada's monetary policy straddles the U.S. Federal Reserve that's signaling liftoff amid a strengthening recovery, and the European Central Bank pressing on with extraordinary stimulus. Looking ahead, "policy divergence is expected to remain a prominent theme" in the global economy, the Bank of Canada said.
Policy Divergence
"The Bank hinted that it's not going to follow the Fed's path ahead, seeing 'policy divergence' as a theme across various regions in the global economy, and presumably expecting that for Canada as well," said Avery Shenfeld, chief economist at CIBC World Markets.
The one-page decision laid out a variety of forces rippling through Group of Seven's largest crude exporter since the oil shock prompted layoffs and canceled investments at resource companies such as Talisman Energy Inc.
Canada's dollar reversed losses after the decision and little changed at C$1.3354 per U.S. dollar at 11:43 a.m. Toronto time. Government bond yields rose, with debt due in two years climbing to 0.61 percent from 0.59 percent. Exports are "picking up" outside the energy industry and the job market has been "resilient" even with cutbacks at oil and gas companies. Risks in the household sector are "evolving as expected," the bank said, a phrase that in the past has referred to record consumer debt burdens and rapid condo construction in Toronto and Vancouver.
"In Canada, the dynamics of growth have been broadly in line with the Bank's Monetary Policy Report outlook," the last full economic forecast paper from October, the bank said Wednesday in its statement.
The view of an economy unfolding as expected closes out a year that began with Poloz making a surprise interest-rate cut as he anticipated the damage from the oil crash.
"I don't think you can argue with it given how the economy performed in the first half of the year," said Benjamin Reitzes, a senior economist at BMO Capital Markets in Toronto. "If January's surprise rate cut was the climax for the Bank of Canada this year, today was the anti-climax."