MORE THAN 86 PER CENT OF LONDON'S APARTMENT CONDOS ARE OWNED BY INVESTORS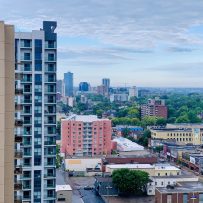 New data from Statistics Canada suggests more than 86 per cent of all apartment condominiums in the City of London were owned by investors in 2020 — a sign first-time buyers are being squeezed out of the market by investors, who are cashing in on the city's severe undersupply of purpose-built rental apartments.
The StatsCan data, which tracks the concentration of residential properties owned by investors across Canada, said 29,530 out of the city's 34,180 condominium apartments are owned by investors, a rate of 86.4 per cent — more than twice the provincial average of 41.9 per cent.
By comparison, Toronto's rate of investor-owned apartment condos is 36.2 per cent, while similar-sized communities such as Kingston and Kitchener-Waterloo, have rates of 44.4 and 61.5 per cent, respectively.
"It shows a lack of rental housing," said Mike Moffatt, an economist and the senior director of policy and innovation at the Smart Prosperity Institute.
Apartment rents have risen dramatically
Moffatt said while an investor-owner rate of almost 90 per cent might look staggering, it's not unusual for a medium-sized city with a large population of students who rely primarily on rental housing.
"We've seen London rental prices go up over 30 per cent year-over-year, so what's happening is investors are buying up condo units and then renting them to satisfy that rental market."
Between 2016 and 2021, rents in London rose dramatically, according to the Canada Mortgage Housing Corporation (CMHC) — from an average rent of $1,002 for a two-bedroom in 2016 to an average rent of $1,275 in 2021.
At the same time, the vacancy rate hovered near two per cent, while London's population grew at the fastest rate in Ontario, increasing by 10 per cent during the same period.
All of that has put pressure on the city's rental market, pushing the cost of a newly turned-over two-bedroom apartment at $1,664 a month, according to the CMHC's latest report.
Moffatt said the lack of rental supply also has an effect on rates of home ownership, forcing first-time buyers to compete and, in some cases, get squeezed out by investors looking to cash in on the city's shortage of options for renters.
Toronto creates vacant home tax
"The fact that we don't have enough purpose-built rentals, we don't have enough student residences at either college or university, means that these condo units get bought up and rented out, which is necessary to house workers and students, but it does make it more difficult for first-time home buyers," said Moffatt.
In response, Toronto has brought in a vacant home tax, where investors must pay city hall an extra $250 on any rental unit they own. A similar measure is being considered in Kingston, while Kitchener decided against one because it would be too costly to collect.
In London, Mayor Josh Morgan said no such policy is being considered without first knowing how many of the investor-owned condo apartments have nobody living in them.
"I wouldn't be able to consider a vacancy tax without first understanding whether there's a challenge here," he said. "If condos are owned and are turned around and rented out — then there's someone living there. The point where we would want to act is if there were large numbers of empty homes."
Moffatt said he doesn't believe governments should create policies that would potentially stop investors from providing housing in the middle of a housing crisis.
"I don't think the answer is to block that investment because those investors are fulfilling a real need for rental housing," he said, adding that governments need to create incentives to make it more profitable for large institutional landlords, such as REITs, to start building new apartment buildings rather than buy up buildings that already exist.
"I think how we solve it is to build more purpose-built rentals and student residences," he said.
Story by: CBC News