Condo apartment rentals in the GTA jump 20.3 per cent in the second quarter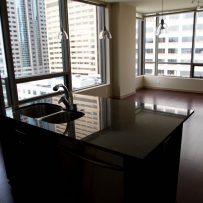 Story by: Monika Warzecha | BuzzBuzzHome
There were 8,821 condo apartments rented through the MLS system in the second quarter of 2015, a 20.3 per cent rise over 2014. According to the data the Toronto Real Estate Board (TREB) published Friday, the amount of condos listed for rent outpaced those rented out: there were 15,323 listings in a total, an annual increase of 23 per cent.
Together, one-bedroom and two-bedroom apartments made up 94 per cent of all rental transactions. Both suite types saw an increase in rental prices. The average rent for a one-bedroom condo rose 1.5 per cent to $1,608. Two-bedroom condo apartments saw an increase of 4.5 per cent to $2,239.
"Growth in average rents is generally impacted by both market conditions and the type and size of units rented from one period to the next. Both of these factors played into rent increases over the past year, but the bottom line is that despite robust listings growth, strong renter demand has provided a firm foundation for rents," said Jason Mercer, TREB's Director of Market Analysis.
The City of Toronto accounted for 81.1 per cent of all the units rented out in the region. Rental prices for condo apartments were slightly higher here, with the average for a one-bedroom unit coming to $1,642 and a two-bedroom suite seeing an average price of $2,361.
The busiest part of the city for transactions was the C01 district, which is home to such vertical neighbourhoods as City Place, Liberty Village, University and the west end Waterfront. The district counted 2,931 condo apartment leases in the second quarter and 4,924 listings. To put that into perspective, it made up about 33 per cent of all condo rentals in the GTA. Here, the average rental price for a one-bedroom condo in the second quarter was $1,749, while a two-bedroom unit typically went for $2,639.
The only district to come close to the numbers seen in C01 was its neighbour, C08, which is known as the Downtown Eastside. It's home to neighbourhoods such as Corktown, the Distillery District, Regent Park and the Church-Yonge Corridor. It saw 865 condo rentals in the second quarter and 1,581 listings in total. Rental prices were only slightly less than those seen in C01: a one-bedroom unit averaged $1,709, while a two-bedroom suite averaged $2,425.