CANADA'S HOUSING MINISTER QUIETLY BUYS ANOTHER RENTAL PROPERTY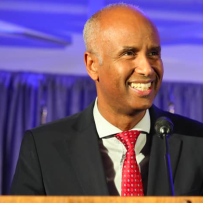 The minister in charge of ensuring Canadians have affordable housing has quietly purchased his second rental property.
In housing minister Ahmed Hussen's disclosure statements, he is now listed as the owner of two rental properties in Ottawa: one on Quest Private and another on Kijik Crescent. He appears to have acquired the second property on March 23, 2023 and has two mortgages with CIBC.
A spokesperson from the Office of the Minister of Housing and Diversity and Inclusion told True North, "Minister Hussen owns two units of rental housing, which are rented to two families in the Ottawa area at below market rates."
When asked what Hussen charges for rent and whether or not Hussen's tenants are his friends or family members, his office refused to comment.
The housing ministry spokesperson pointed to the fact that Conservative leader Pierre Poilievre also owns a rental property in Ottawa and "co-owns a real estate investment company in Calgary."
As Minister of Housing, Hussen may be privy to information about the housing market not known to the general public, which to some critics makes his investments akin to insider trading.
"It brings to mind how Congress in the U.S. won't pass the Stock Act because they're all inside traders," housing expert and journalist Neil Sharma told True North.
"The economics of housing in Canada might be a little more obscure to understand for the average Canadian, but what the Minister of Housing is doing isn't any different. He should be solving the supply paucity, not profiting off of it."
Within days of quietly buying his second rental property, Hussen appeared on TVO's The Agenda and was called out by host Steve Paikin for being a landlord as well as the housing minister, and asked if he felt "conflicted by being in that situation."
"Not really… I'm happy to be contributing to that housing supply," Hussen replied with a smirk.
According to Sharma, "If Hussen is merely 'happy' to provide rental housing, then he should have no problem selling his unit, or units, to another investor, or investors, because, then, not only will the tenants be allowed to continue living in those rental units, Canadians will know the country's Minister of Housing isn't profiting off of the crisis."
"Because right now, whether Hussen admits it or not, he most certainly is profiting off of it. The word for this is 'venality.'"
The average rent for a one-bedroom apartment in Toronto and Vancouver hover around $2,500 a month. In Halifax, that figure is nearly $2,000, and in Calgary it's $1,600.
"I predict the average price for a one bedroom in Toronto to rise above $3,000 by 2030," Marco Pedri, real estate broker at Shoreline Realty Corp. Brokerage, recently told BNN Bloomberg.
"People see that number and find it impossible to believe, but just 10 years ago the thought of an average bedroom going for over $2,000 was unfathomable — and yet here we are."
The median after-tax household income in Canada is $73,000, and the average home price in Canada is $662,437, though you can't find many houses in the Greater Vancouver and Toronto areas for under a million dollars.
Story by: True North