CPPIB buys 60% stake in Toronto rental property, entering Canada's multi-family real estate market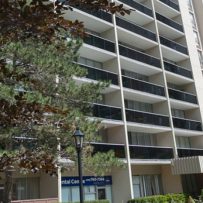 Story by: Barbara Shecter |Financial Post
The Canada Pension Plan Investment Board made its first direct investment in Canadian multi-family real estate on Monday with the purchase of a 60 per cent interest in Minto High Park Village in Toronto.
Peter Ballon, managing director and head of real estate investment at CPPIB, said the acquisition of the majority interest from Minto Properties Inc. represents a "solid entry" into the sector.
"With strong population growth and solid rental demand, Toronto is one of the top rental markets in Canada and a key strategic market for us in this sector," he said.
Ballon said Canada's largest pension fund intends to build a relationship with Minto Properties, which will continue to hold the remaining 40 per cent stake in Minto High Park Village. Minto will also continue to oversee management and leasing of the rental property, which has three towers and 750 rental units.
Minto Properties is part of the Minto Group, a 60-year-old integrated real estate operation with experience in asset and property management, acquisitions and dispositions, development, and financing. Minto manages 17,000 multifamily units and three million square feet of commercial space in London, Ottawa, Toronto, Calgary and Edmonton.
Monday's $105 million investment by CPPIB in the Minto multi-family property in Toronto marks the continuation of a strategy deployed in the United States in 2011.
By August of last year, the Canadian pension giant held direct joint venture interests in more than 8,400 rental units in eight U.S. markets. Equity commitments to the sector totaled US$1.3 billion. At the time, Ballon said the sector was attractive because there was a limited supply of high-quality rental properties alongside forecast population growth and declining home ownership.
"We have had great success in the U.S…. a very substantial portfolio [and] great partners," Ballon said in an interview Monday.
CPPIB has been looking to replicate the U.S. strategy in Canada for a few years, he said, but was "patient" until the right combination of price, partner, and expected returns came along.
He said he can't pinpoint "any one factor" that sparked Monday's deal. However, he noted that real estate investment trusts (REITs) have been "a little less active" lately and the Toronto condo market may be cooling a bit, which could drive demand for rentals.
"I do think the window for investing is opening up a little bit in the multi-family sector," he said.
Ballon declined to say whether he expects those trends to continue or translate into further acquisitions for the pension management organization.
"We let the markets tell us if there's deals. We don't really predict," he said.
CPPIB invests the funds not needed by the Canada Pension Plan to pay current benefits. At March 31, 2015, the CPP Fund totalled $264.6 billion, with $34.1 billion in real estate investments.