CITY CRACKDOWN IDENTIFIES HUNDREDS OF UNLICENSED SHORT-TERM RENTALS IN LONDON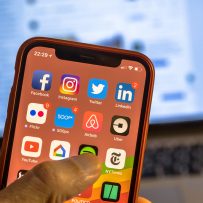 Enforcement action by City hall is shining a light on hundreds of unlicensed short-term rentals in the wake of a 2022 bylaw that changed the rules for people hoping to rent their properties on websites like Airbnb and Vrbo.
The blitz left the local market almost devoid of licensed short-term rentals, with the grand total of properly licensed properties sitting at just 31.
"I wasn't really surprised because it's a new bylaw that came into force very late last year. In following with how these bylaws are being implemented across Canada, it's very common that there's a very slow uptick on property owners proactively coming in and getting licensed," said Orest Katolyk, the director of municipal compliance.
While the number of legally licensed properties sits at 31, a total of 366 unlicensed properties were identified by the city, and notices of contravention had been issued.
Of these, a total of 277 are not the primary residence of the owner, and so are ineligible for use for short-term rentals. There are 89 properties that have yet to be licenced but fit the criteria of being primary residences.
The bylaw officially came into effect in October 2022, after being passed in June of that same year. It aimed to crack down on Airbnb and other short-term accommodations by requiring operators to live in the house they're renting. This came on the heels of numerous public input sessions and concerns regarding nuisance parties and neighbourhoods being overtaken by short-term rentals.
"We heard from neighbours about noisy weekend events where people were renting homes to have basically party atmosphere. These likely would not happen if it's somebody's home," Katolyk said.
The other factor that went into the decision was housing availability and affordability, he added.
When the bylaw came into effect in 2022, city hall officials told CBC News, only seven out of the estimated 650 short-term rentals operating in the city at the time signed up for the new $175 annual licence.
The penalty for failing to comply starts with a fine of $500, but in the past, officials with the City of London noted that education and warning are typically used before resorting to penalties. The fines may be doubled for repeat offences.
The bylaw defines short-term accommodation as a temporary accommodation in all or part of a dwelling for 29 days or less.
It also said that for a property to be listed on a service like Airbnb, the platform must also be licensed and post individual licence numbers for each listing on their platform.
At the time of publishing, 887 homes were listed on Airbnb in London.
Story by: CBC News