CANADIAN REAL ESTATE IS WORSE THAN OFFICIAL DATA SHOWS, BMO REVISES FORECAST LOWER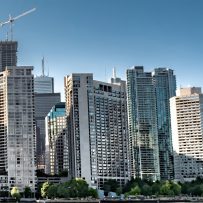 Canadian real estate is undeniably in a downturn, but it might be worse than it appears. BMO Capital Markets warned clients that the market is eroding faster than expected. Official numbers fail to capture the whole picture, according to a research note today. Citing a few important red flags, they said the data is worse than it looks — and it already didn't look great. The bank also shared a revised forecast showing a national price drop greater than 20%. They're joining RBC in the club of banks surprised to see the market erode this fast.
Canadian Real Estate Is Now Expected To Fall Over 20%
The Canadian real estate market is eroding faster than expected, said BMO. The bank has forecast the price of a typical home (CREA composite MLS benchmark) will fall 21% from peak. It's a big shift from their last quarterly filing, with the forecast closer to their "worst case." They have yet to directly mention the forecast revision, but like RBC it might have been a hint. RBC revised their outlook downward last week and now expect a "historic correction," a few days after we noted the difference.
As mentioned, this is close to BMO's previously forecast "adverse" or worst case. They previously called a 30% drop as the worst things could get, if everything failed. Now they're calling a drop of over 20% with a minimal recession. It's not entirely unexpected, with some forecasts calling the drop "good news."
If the official data wasn't this bad, why the downward revision? Well, they explained it doesn't reflect some of the issues seen over the past few months. The average market participant has yet to realize conditions are quickly changing.
Official Data Fails To Capture Significant Market Issues For Canadian Real Estate
BMO included a bullet list of the issues they're seeing, and as you'd expect there's data to support it. These include:
Canadian Real Estate Has Seen More Re-listings and Delistings
Canadian real estate markets have seen a surge of listings being pulled and re-listed. An agent might have any number of reasons for delisting and relisting, but it does impact the stats. Homes that are canceled and relisted at a lower price don't show a price cut or accurate days on market (DOM). It's apparently a big issue in the Greater Toronto Area (GTA), warns BMO.
"These are rampant in the GTA now as sellers aren't getting any traffic and, if they are, offers are coming in light," said BMO senior economist Robert Kavcic. "Many seem to be either re-listing for less, pulling their property for another time, or rolling it onto the strong rental market. In other areas (like the rest of Ontario), the situation looks more serious."
De- and re-listing obfuscates an important data point — days on market (DOM). Our research in the IBM Watson AI startup program identified DOM as a key price indicator. In fact, Watson couldn't find a stronger relationship to price. It was in 2017, about a month before a surge in listing/terminations obfuscated an increase in DOM across Greater Toronto, and prices fell.
TRREB later conducted an analysis in 2019 that confirmed DOM was understated. In other words, cancellations hide the biggest correlated indicator for price drops.
If you're looking for an example, there's a high-profile one in Ontario. Premier Doug Ford's recently listed home was delisted and relisted 12.4% ($399,999) lower. Today the listing only shows 1 DOM, but it was also just 1 day on the market on July 16th, when it also made the news. However, ads began appearing around June 29th. A month isn't a long time for a home to be on the market, especially for the price point. However, the official DOM doesn't accurately reflect the number of days the property has been on the market.
More Canadian Real Estate Is Being Sold Under The Asking Price
One of the biggest boom-time discussions was how much buyers paid "over ask." Now the opposite is happening as fewer buyers feel the FOMO to buy.  "It's a buyers' market now, where conditions and negotiating are things again," says Kavcic.
Many industry professionals quote board stats showing homes are still sold over ask. This is especially true in Greater Toronto where the ratio is hovering a little above. But with the cancel and re-list issue, it's fairly meaningless. If the above home is re-listed $399k lower and then it's sold for $100 over ask — it's sold over ask. The stat doesn't consider it's $399,999 less than it was originally offered for sale. We've even found coincidences where homes sell for $1 more than they were re-listed at.
Is it intentional or a coincidence? It doesn't matter. The point is it's now a useless indicator and the rise of re-listing indicates more stress than not.
So Many Canadian Real Estate Closings Are Failing, BMO Is Bullish On Lawyers
Canadian real estate markets are seeing more home sales fall through. Home sales fall through for various reasons, including failed financing or buyer's remorse. Most of the data is anecdotal, since the only hint of a failed closing is re-listing after it had been "sold." However, the chatter around the issue in the industry and banks is starting to spill into the public.
"Let's just say that we'd be bullish on real estate lawyers this year. Buyers watching property values fall are anecdotally trying to back out of some deals. In other cases, appraisals are falling short, forcing buyers to scratch together bigger down payments," the bank explained.
Most of Canada missed the Greater Toronto real estate issues in 2017/2018. Heck, even people in Toronto have mentally blocked out the brief correction, despite a lot of lost money. In some cases, lenders refused to finance property with large gaps between the offer and appraisal. It was a big issue with pre-sale buyers, who had to scramble to find additional money to close.
Canadian Real Estate Has Seen A Sudden Collapse of Investor Demand
Canada's real estate market saw a significant demand surge over the past few years, driven by cheap money. A large segment of that demand was investors who ignored cashflow. Landlords usually try to buy property that rents for more than it costs to run. Recently a large share of the market has become speculators that subsidize tenants. The maximum rent they can collect doesn't cover expenses, they assume appreciation will.
It's such an odd segment, it's almost not worth calling these buyers landlords at all. We call them speculords around here, since they're taking a gamble on appreciation. They don't have long-term cash flow plans like a typical landlord. They might say they're long-term, but how long do you plan on subsidizing a tenant without home prices rising?
"Cash-flow negative properties at 1.5% mortgage rates are now deeply so at 4.5%. Without expectations of price gains, investors are gone….," says Kavcic.
BMO didn't dive into the share of investors, but we've previously shown it's a huge share of the market. A quarter of property transfers in Toronto were investors. At the same time, they also bought a little over half of the new condo supply in the region, the most "affordable" option. It wasn't a unique story in the GTA, but definitely the one most told. It happened right across Canada.
Investors are being squeezed and trying to pass on some of the costs to their tenants with steep rent hikes. They might be confidently proclaiming it's the tenant being screwed by higher rates. It's not the case. A cash flow negative investor at 1.5% who sees costs rise to 4.5% needs rents to rise 38%… to continue being equally cash flow negative. Combine that with falling prices that were supposed to be padding the cash flow. It's hard to see investors doubling down right now. They might even be net sellers, hoping to  collect some of those sweet gains they made over the past two years.
Shortage of Supply? Canadian Real Estate Developments Are Canceling Developments
A lack of supply keeps being repeated but BMO has been skeptical of this narrative. The bank advocates for more building, but warns that high home prices aren't due to a shortage. The surge of investors stimulated by low rates were behind the demand pop. Since negative cash flow investors disappeared, so did their demand.
We know, you think everyone wants a home in Canada, so demand is through the roof. In economics, demand has to be qualified to be considered real. They have to be ready to pay the price, not just want it really bad. Normal market dynamics dictate if there's no demand at a price, it should be lowered until it appears. That's a typical demand curve, but demand curves usually don't factor emotions.
"Less supply???," writes Kavcic — literally with three question markets."With demand cracking, there is already chatter about project cancellations. Building 5.8 mln units was ambitious in the best of times—now it might be a dream."
Like the situation with negative cash flow and speculords, this is now a big game of chicken. Can the market withdraw and delay projects long enough the market panics about a shortage? Or will the market reject prices at this level for long enough that prices need to fall? It appears BMO is taking the bet on the latter, but in any case — it's going to be hard to sell when your buyer has a tough time passing on costs.
Story by: Better Dwelling