ROYAL LEPAGE COMMERCIAL – PRINCIPAL INTEREST MULTI FAMILY INVESTMENTS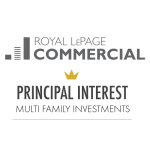 15C - 370 Highland Road W
Kitchener, Ontario, N2M 5J9 [Map]
Tel: (519) 745-7000
Contact: Kyle Church
Email: kyle.church@royallepagecommercial.com
Website: www.principalinterest.ca

Products / Services
Real Estate
Corporate Bio
Principal Interest is a client focused, results driven facilitator of multi family investment transactions in Southwestern Ontario. We have a proven track record of over $150 Million in multi family sales. We pride ourselves on building long term relationships with our clients and customers to help them achieve and exceed their investment goals.
Kyle Church, Broker
Kyle Church specializes in providing acquisition and disposition services for multi family investment properties throughout Southwestern Ontario. Focusing primarily on the Kitchener, Waterloo, Cambridge and Guelph markets, Kyle provides his clients with superior market knowledge, in depth investment analysis, marketing and negotiation skills to assist property owners and purchasers make sound investment decisions.
Kyle enters his 10th year as a commercial broker, having sold over $150 Million dollars in multi family apartment buildings of all sizes, representing both buyers and sellers. Kyle started his career in commercial real estate as a Research Associate and Sales Representative at a local commercial real estate brokerage after earning a Masters Degree in Economic Development from the University of Waterloo. While in this position, he gained valuable experience with all types of commercial real estate transactions including industrial, office, retail and multi-family property. Prior to his career in real estate, Kyle worked as an economic development consultant, providing strategies for product development and marketing tactics for municipalities, private businesses and not-for-profit organizations throughout the Province of Ontario and the U.S..
Andrew Macallum, Sales Representative
Andrew Macallum joined Principal Interest with over 17 years experience as a provider of multi family housing. Having recently served owners and tenants as Principal at a property management company in Waterloo, his experience is rich with knowledge in navigating provincial legislation, building infrastructure and managing relationships with stakeholders.  Andrew has previously served as President of the Waterloo Regional Apartment Management Association (WRAMA) for three years, representing rental housing providers and property managers across Kitchener, Waterloo, Cambridge, Guelph and the surrounding townships.