Dufferin Iron & Railings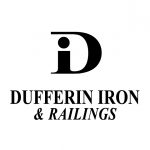 12 Sable Street
Toronto, Ontario, M6M 3K6 [Map]
Tel: (416) 535-1686
Contact: Caroline Parolin
Email: caroline@dufferiniron.com
Website: www.dufferiniron.com

Products / Services
Wrought Iron, Railings, Fences, Gates, Balconies, Safety & Exclosures
Corporate Bio
At Dufferin Iron® & Railings, we build what you envision. Wrought iron work can add unique elegance and refinement to your property, whether it's inside or out—and with our railings, fencing, gates, and more, beauty can truly be functional too.
Since we first opened our doors in 1974, Dufferin Iron & Railings has led the industry as specialists and craftsmen in fabricating and installing wrought iron products such as railings, fences, gates, balconies, and more. The cornerstone to our success has been our unwavering dedication to providing our clients with a personalized and professional experience in addition to using only the finest materials for each project.
The Dufferin Iron & Railings advantage is also in our versatility—we handle projects of all sizes. From simple and affordable residential custom wrought iron railings to larger and complex custom designed railing and fencing projects, we are equipped with the expertise and facilities to handle every project including larger commercial needs.