Coinamatic Canada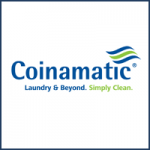 301 Matheson Blvd W
Mississauga, Ontario, L5R 3G3 [Map]
Tel: (905) 755-1946
Contact: Susan Reynolds
Email: sreynolds@coinamatic.com
Website: www.coinamatic.com

Products / Services
Laundry Solutions, Parking Solutions
Corporate Bio
You know Coinamatic as "Canada's Most Trusted Name in Laundry Services." However, Coinamatic is so much more than a simple laundry company.
Coinamatic is Canada's specialist in managed laundry systems. Since 1946, Coinamatic has provided vended laundry equipment and service to the multi-residential housing industry.  We currently service over 22,000 customer locations across Canada. Coinamatic offers sustainable laundry solutions and top of the line SpeedQueen and Maytag equipment, as well as innovative payments solutions that include Mobile Payment, Laundry Card or Coin Vended.  Enjoy ultimate customer service with a 24/7 multilingual live voice call centre and coast to coast national service team.
Coinamatic Commercial Laundry, a Division of Coinamatic, provides effective & sustainable end to end solutions for facilities with on-premise laundry operations. Primarily focused on long term care, assisted living, and the hospitality markets, CCL offers a complete line of multi-load commercial laundry equipment as well as Ecotex laundry oxidation systems. Coupled with our coast to coast service and unique service agreements, Coinamatic provides laundry solutions designed to increase productivity and reduce costs!
ParkSmart, a Coinamatic company, offers innovative parking solutions that effectively assist in the management of parking facilities of all sizes. ParkSmart solutions aim to increase revenue, reduce costs and improve the operations and end user experience of your parking facility.
Coinamatic is owned by WASH Multifamily Laundry Systems, the leading provider of outsourced laundry equipment and service in North America. Headquartered in El Segundo, California, WASH has 850 employees, 25 branch offices, 65,000 customer locations and an installed base of over 450,000 machines.