Your Tenants Rely on Safe Electrical; Why it Can't be Ignored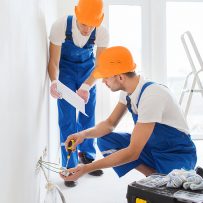 Story by: Scott Saint
For property managers across the province, tenant safety is a top priority that should never be compromised. And the first step to ensuring electrical safety is hiring the right person for the job.
When exploring options to complete a new installation, renovation or repair work, it's often easiest to get a referral from a trusted source. But when it comes to electrical work, a referral shouldn't always be taken at face value.
All electrical work that's done for hire — from small repairs to major installations—must be done by a Licensed Electrical Contractor and with the required electrical permit(s) from the Electrical Safety Authority (ESA).
If a property management company has an on-staff electrician, this individual can complete repairs and replacement work, but he or she must follow the Ontario Electrical Safety Code (Code) and get the appropriate electrical permits.
A recent survey of property managers in Ontario found that more than one-third didn't realize the Code applies to electrical work in their buildings. But it does. In fact, the Code must be followed for ­all electrical work – maintenance, repair and new projects.
The requirements for safe electrical work are detailed in the Code and are meant to protect property owners and tenants from the dangers posed by electrical work. ESA is responsible for public electrical safety in Ontario, and part of our role is to help others understand the requirements of the Code and provide them with ways to stay compliant.
Electricity is an essential part of our lives, but it is also dangerous. Here are three ways in which ignoring Code requirements can come back to haunt property managers.
Questionable Coverage
Operating outside the rules is risky; if something goes wrong the onus is on the property owner. Insurance companies take risk very seriously and if it's found that work on a property wasn't done to Code, it could invalidate a policy.
An insurance company could decide not to pay out a claim and the cost of the repairs would have to be completely covered by the owner. Not only could this jeopardize their property, but they could be held liable for third party damages as well. All of which could mean a job lost for the property manager. The Office of the Fire Marshall and Emergency Management (OFMEM) reports that between 2011 and 2015 there was an average of 651 fires per year in Ontario caused by electrical wiring and outlets.
Hiring an unlicensed contractor just isn't worth the risk.
It may seem cheap now, but it could cost you later
Imagine this scenario: you're renovating one of your properties and decide to hire an unlicensed contractor to upgrade suites with new stainless steel, energy efficient appliances and track lighting to replace the old ones that are racking up your hydro bills. It's a pretty basic job so you're confident this guy can get it done – and he's quoted the work at a low cost. Five years later, you want to further reduce costs and make the property more attractive to tenants and decide to install some green technologies. This time you hire a Licensed Electrical Contractor and they get the proper permits. While the Licensed Electrical Contractor is doing their work, they notice some work that is not up to code and could pose serious safety hazards. The ESA inspector notices the same. All of a sudden your new appliances need be re-installed at a significant cost.
Luckily in this scenario no one was hurt or killed by the unsafe installations. But what if the poorly-done electrical work sparked a fire? Recently, a high-rise apartment complex experienced an electrical fire caused by a malfunctioning switch in the electrical room. This left more than a thousand people homeless and the extensive damage resulted in multimillion dollar repairs. This fire was so severe that the building continued to remain unoccupied four weeks following the fire. While such examples are extreme, with electrician Licensed Electrical Contractor, proper permitting and ESA oversight, it is possible to identify risks before they become serious hazards.
Your Tenants' Safety
According to the OFMEM, between 2006 and 2015 there were 26 fatal fires in Ontario caused by faulty electrical wiring. No matter how big a discount an unlicensed contractor offers, it's simply not worth risking tenants' lives.
The fact that we don't regularly worry if the appliances we buy will catch on fire or if the light switch we flip will electrocute us is evidence of almost a century of work developing and improving safety standards. And each time someone works outside of the law by ignoring the codes, we're all less safe.
At the end of the day the goal of ESA, similar to property managers, is to ensure Ontarians are safe where they live and work. ESA is here to help property managers accomplish that goal.
Scott Saint is Chief Public Safety Officer of the Electrical Safety Authority