Your guide to understanding Doug Ford's major overhaul of Ontario's rent control policies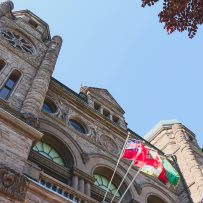 No matter where you fall on the political spectrum, you'll likely agree that Ontario's rental market has morphed into something akin to the Wild West. This is especially true in Toronto, where rental prices have been climbing for years, vacancy rates are at an all time low, and the competition for a dwindling number of cheap rentals is fueled by an unaffordable resale market that keeps potential first-time buyers renting.
After a summer election that swept the Liberals out after nearly 15 years in power, the new Progressive Conservative government under Doug Ford says that they have the solution to ease Ontario's rental crisis.
PC government flips Liberals' rent policies, again
On November 15, 2018, the province released its Fall Economic and Fiscal Outlook, through which it outlined Bill 57's new legislation for rental control: All new units — those that are newly built or occupied by a tenant for the first time — after November 15th would be exempt from restricted rental price increases. New additions to existing buildings are now also exempt from rental control. This means that the recommended rental increase rate proposed by the province, currently set at 1.8 percent, would not apply to new units, and unit owners can raise the rent as much as they want. Sticking with previous rent control policies, landlords still maintain the right to increase rents to their liking whenever a tenant leaves the unit and their lease ends.
These changes came as a quick reversal to the Liberal government's rent control legislation that Kathleen Wynne introduced close to the end of her tenure as premier. In April 2017, rent control was expanded to all private residential units under the Rental Fairness Act. The Act also prevented landlords from increasing rent past the provincial guidelines, capping rent hikes at 2.5 percent a year.
According to a spring 2017 market report published by CIBC, under construction units accounted for 16 per cent of the new supply in the rental market at the time, about 5,000 purpose-built units. Wynne's rent control legislation prompted developers to convert over 1,000 proposed purpose-built rental units into condominiums, citing concerns over limited rental growth. One such project, The Kingly on King Street West in Toronto, was flipped to condos by RioCan and Allied Properties from the original plans for a 133-rental project. Widely reported instances like this likely led the PC government to conclude that the 2017 rent control policy resulted in, "reports of planned purpose-built rental units being cancelled or converted to condominiums."
By eliminating rent control on new units, the PC government hopes to increase unit supply by incentivising investors and encouraging developers to build.
"The rent control exemption for new rental units creates a positive investment environment for new housing supply, which is needed to create a greater mix of housing options for Ontario's growing population," says the Ministry of Municipal Affairs and Housing in a written statement to Livabl. "We have already seen encouraging signs that this will have a positive impact on the development of more rental supply, while ensuring tenants are protected."
With the GTA's population set to grow by 40 percent, more rental supply is needed
Ontario's population is projected to surge over the next 20 years. According to the Ministry of Finance's Ontario Population Projections Update, it is predicted that the number of people living in Ontario is expected to exceed 18.5 million by 2041, a near 30 per cent jump from today's population of 14.2 million. The Greater Toronto Area, where the rental market has seen steep price increases, is expected to absorb the highest rate of growth, taking the population from 6.9 million to 9.7 million. To accommodate this growth, the PC government hopes to stimulate an increase in purpose-built rentals— buildings that exclusively cater long-term rental apartments.
Some agree that rent control has been an impediment between more market supply and builders.
"The fact that there is rent control is just one disincentive for purpose-built rental developers. It's just one sitting in a wide range of factors that go into to deciding if they want to build a rental building or not," says Ben Myers, president of Bullpen Research & Consulting.
Rent control, Myers says, prevents tenant turnover in the market and misallocation — a tenant may choose to stay in a unit long enough that, as a result of rent control, the rental price of the unit falls below market value. If a developer can't guarantee that their purpose-built rental will lease out, construction financing becomes more expensive and difficult to secure. Myers explains that relaxed rent control will not only help landlords cover costs and make profit, but keep condo investors buying.
We don't want history to repeat itself, experts warn
Not everyone supports the new rent policy.
"We definitely need the business model for purpose-built rental to be successful in Ontario, and across the country, because there is a serious shortage of rental supply, and building more rentals is an important part of the solution," says Dr. Paul Kershaw, founder of Generation Squeeze, a socioeconomic research foundation that focuses on young Canadians. "But a successful rental business model does not require opportunities for limitless rent increases."
Kershaw refers to past limitations of rent control, such as policies enacted under the PC government led by Mike Harris, who, in 1997, introduced Bill 96 that scrapped rent control for buildings constructed after 1991 in order to motivate more purpose-built rentals. Some argue that this exemption did not deliver the supply of rental units that was promised. In 1997, there were 790 rental housing starts in Ontario, a 38 per cent drop from the year prior, according to Federation of Metro Tenants' Associations. By 2016, the number of housing starts increased up to 7,367.
"There's little reason to expect that the elimination of any rent control on future units will be the policy lever that most attracts developers to prioritize rental over other kinds of new housing supply," says Kershaw.
According to Urbanation, average Toronto rents increased 9.3 percent through 2018 to $2,309. The real estate research firm predicts that 2019 growth will ease to five percent as a result of a 30-year high on rental and condo buildings expected to complete this year. Over 5,000 purpose-built rentals are expected to be completed in 2019, the highest level achieved since the early 1990s.