You can walk away from your mortgage (if you live in Alberta), but should you?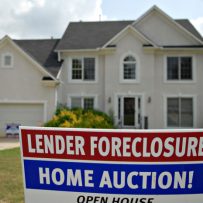 Story by: Garry Marr | Financial Post 
Handing over the keys to the house and walking away from your mortgage, called "jingle mail," was a defining act of the American housing crisis. The problem is it can happen here, namely in Saskatchewan and Alberta.
Francis, a 34-year-old welder from the mining town of Grande Cache, Alberta, says he wishes he could get out of the townhouse he bought four years ago.
"At the time it seemed cheaper. I didn't want to spend money on rent. But now I think I can find something cheaper to rent," says Francis, who asked that his last name not be used.
He bought the home for $175,000 with a five per cent downpayment but still owes $150,000 on his mortgage. He says the market for his home has collapsed in his town and a realtor just told him the best price he could expect is $75,000.
"This town is mostly about mines and now the gold price is down. The town is dead," he said, frustrated about his situation. He's also out of luck, if he wants to walk away, because his loan is backed by Canada Mortgage and Housing Corp., the Crown corporation that controls a majority of the mortgage default insurance market.
Since the loan is "under water," his bank would be left with a shortfall that CMHC would have to cover. The Crown corporation would likely sue him for any losses it has to cover, so if he has any assets, CMHC will go after him.
Handing over the keys to the house and walking away from your mortgage, called "jingle mail," was a defining act of the American housing crisis and helped send the market south of the border into a deeper tailspin.
It can't happen here, we're told. So-called non-recourse mortgages are the rule in at least 10 U.S. states where consumers jumped at the opportunity to escape a mortgage that was more than the actual value of their house once the market started to fall.
The problem is it can happen here, namely in Saskatchewan and Alberta – the only two provinces that have similar rules. Considering how much listings have spiked in Alberta as people test the market, there is clearly concern among homeowners about whether the value of their property will hold.
And guess what? Albertans did take advantage of the rule in 1983 and 1984 when home prices fell more than 30 per cent and mortgage delinquency rates rose sharply. Mark Pinsonneault, senior economist with National Bank, said there is little question some Albertans engaged in strategic defaults at the time.
"It really depends on how much equity you have put in. The price is going to have to drop at least 20 per cent or more for it to make sense," said Pinsonneault. "We are very far from seeing this in Alberta, so far."
The only eligible people are those with a loan without mortgage default insurance backed by the government. And anybody with less than a 20 per cent downpayment must get that insurance in Canada. In Saskatchewan the rule is limited further to and doesn't allow people with renewed mortgages, as well as no government backing,  to walk away.
Before you call your bank, there is the thorny issue of your credit rating. Regina Malina, senior director of decision insights at ratings agency Equifax Canada, said getting another mortgage would likely be more difficult. "It really would depend on how you walked away from your mortgage," she said. "Frankly, it should impact your credit score."
But the scenario still could prove tempting for some consumers if Alberta or Saskatchewan prices start to plunge quickly.
"In the lending industry they call Alberta the wild, wild west because of that," said Dan Heon, a mortgage broker and the owner of Canadian Mortgage Team Alberta, referring to the non-recourse rules. He says banks tightened standards when the economy buckled in 2008 and some lenders have created structures that force borrowers to give personal guarantees on mortgage loans.
Heon says Alberta created non-recourse loans because the market gyrates so much due to factors like oil prices, making consumers more leery of taking on loans.
Ray Leclair, vice-president of public affairs with the Lawyers' Professional Indemnity Company, said at least part of the reason non-recourse loans are part of Canada's landscape is our agricultural heritage. "They didn't people want to lose all of the farming [assets] because of some crisis," he said.
Leclair said he's seen non-recourse loans in provinces like Ontario but it requires the mortgage to be drafted differently, including an agreement by the bank they only have recourse against the property.
Francis is in the same boat as residents outside his province. Because of the conditions on his mortgage, he can't walk away from it.
So, since any Canadian who walks away from their home will likely be sued, the only real way out would be to declare bankruptcy.
Andy Fisher, a trustee in bankruptcy with A. Farber and Partners in Toronto, said in Ontario the mortgage holder can go after any of your assets, although some provinces protect funds in your RRSP account. But the banks usually want to keep you in your home and paying off that mortgage.
"I can tell you, if you want to keep your house in bankruptcy, and can afford [the mortgage], it's usually no problem," said Fisher, noting most financial institutions will come up with a payment plan to keep you in your home.
"I actually see more people with a home that is underwater and they want to keep making the payments and struggle through."