Work Smarter With These Landlord Hacks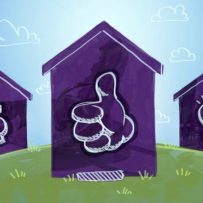 Story by: JENNIFER CHAN
Ever wish you had more time and resources to keep up with the work on your rental property? Maintenance doesn't stop once you find a tenant, but there are several ways to make your job as a landlord a little easier.
Here are some tips to help you save time and money managing your property.
Change locks with ease: Replace locks quickly during turnover using KwikSet SmartKeys, which allow you to easily reset the lock yourself.
Standardize your property features: Finding the exact same faucet fixture, replacement part or paint color for repairs and touch-ups can be a headache. Cut down on the time, money and storage for these items by using the same paint, tile, fixtures and hardware at all of your properties.
Reduce repainting costs: Paint is a relatively quick and cheap way to cover up years of wear and tear on a property, but you can lower your costs even more by painting the walls and ceiling the same color. Save on labor by spraying the paint onto the walls instead of using rollers, further reducing the cost of repainting.
Force-wire the bathroom light and exhaust fan: The exhaust fan is there, but are residents using it? Control mold and mildew by rewiring the bathroom light switch to also turn on the fan.
Protect your under-sink cabinets: Prevent spills and leaks from damaging the cabinets by lining the area under the sinks with scrap vinyl flooring.
Replace carpeting with durable flooring: Reduce the time and money you spend replacing and cleaning carpets with easy-to-clean alternatives like hardwood, vinyl, laminate or porcelain tile.
Install a lock box: Make lockouts less inconvenient by installing a lock box on the property with an extra key.