Wood frame buildings could help alleviate 'missing middle' shortage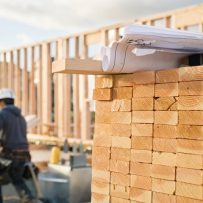 Wood frame buildings are not only bringing dynamism to Ontario's landscape, they're being touted as a way to develop "missing middle" housing in Toronto.
"Wood frame is a gentle-density option," said Joe Vaccaro, CEO of the Ontario's Home Builders' Association. "It's that missing middle piece that you can bring into the right location to help people find a home where they can work, live and play. In our mind, it's a great option as a new supply chain. There are also lots of transit areas with constraints on putting up 15-storey buildings, so this product is somewhere in between and it works for everyone."
The building code was amended a few years ago to allow wood frame buildings as high as six storeys, and they fit the bill for so-called missing middle housing—mid-density abodes that fall between the high-rises that keep dotting the Toronto skyline and ground-related housing.
However, the reason Torontonians aren't likely to see too many of these developments is because of the city's exorbitant land costs. While wood frame buildings are produced in factories, then assembled on site in the half the time it takes to construct a concrete building—thus saving money—developers seldom regard mid-rise buildings as a way to optimize their investments.
But there are some sites in Toronto, ones that require infill, upon which a mid-rise building would be both ideal and cost-efficient.
"Established neighbourhoods don't want to see 12- to 24-storey towers, so now this is where people are investing in four-, five- or six-storey buildings, which would not change the neighbourhood's character much," said Steven Street, technical manager of Canadian Wood Works. "If you take Bloor St., out towards Royal York subway station and High Park, where there are a lot of four-storey buildings, you could cost-efficiently do this. There are always going to be some parcels of land that are better than other parcels of land."
A few other roads include Ossington and Roncesvalles Aves., as well as McCaul St. downtown, to name just a few roads in Toronto where wood frame would be suitable.
Mass timber technology is also touted as a solution to carbon emission reduction. In Vancouver, Adera Development has exclusively built with wood for a half-century and its vice president extols its performance.
"The homes are quieter than concrete and the homes are as solid as concrete homes, but they have better performance," said Eric Andreasen. "Even with it comes down to fire, our wood doesn't burn. We perceive smart wood to be the building technology of the future and we can compete with concrete pound for pound, dollar for dollar, and there are a number of benefits for customers."
Street noted that developers welcome mass timber technology in Ontario.
"Since the code change in 2015, we've seen a progression with building code provisions start to take a life on of its own," he said. "Some developers are incredibly excited about the factorization and incorporation of mass timber technology."