Winnipeg councillor pledges 'all-out war' on illegal rooming houses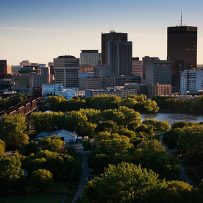 South Winnipeg Councillor Janice Lukes called on the local government to intensify its campaign against illegal rooming homes, in the aftermath of a fire at a residence near the University of Manitoba over the weekend.
Lukes, who has spoken out against unsafe landlord practices (fire hazards, overcrowding, etc.) in the past few years, has met with the Fort Richmond-University Heights Neighbourhood Association on Saturday (March 25) to discuss possible measures against problem residences.
"We're going to have an all-out war on landlords," Lukes said, as quoted by the Winnipeg Free Press.
Compared to other institutions of higher education across the country, the University of Manitoba ranks relatively low in terms of student housing, according to a report by the university's planning students earlier this year. Currently, only under 5 per cent of the total student population benefits from the university's housing program, and over 350 individuals are still in the waiting list. Average rent is at $823 per month.
Pasadena Avenue, which lies within walking distance of the campus, also hosts student housing for $672 per month. Resident Arthur Prystenski argued that landlords are largely at fault, not the students.
"I've met some of the students," he said. "They're basically just looking for inexpensive housing… They would like better conditions but that's what's offered to them so they accept it."