Why Torontonians will have to buy into the idea of renting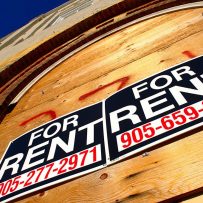 Egged on by low interest rates, Torontonians have been slow to give up their homeownership aspirations, but like it or not, the GTA is approaching a scenario in which more people will become long-term renters, says one economist.
"In a normal situation, when you're in an affordability crisis, the market will adjust," says Benjamin Tal, CIBC's deputy chief economist, in an interview with BuzzBuzzNews.
"One of the adjustments would be an increased propensity to rent, but it's really not happening — at least for now — because of this affordability illusion," says Tal.
Rock-bottom interest rates have created the illusion Tal is referring to. They put homeownership within reach for Torontonians who would not otherwise be able to afford mortgage payments — for now.
As soon as rates rise it will be the "most significant test" for individuals looking to purchase a home, says Tal, and it should lead to a larger pool of renters in the GTA.
In light of that, the CIBC economist thinks builders should launch more purpose-built rental projects.
"[Purpose-built projects are] now accounting for roughly 17 per cent of new units," says Tal, citing a projection for 2016. "I think it should rise to about 30."
The condo market plays an important role in adding to the supply of rentals across the GTA, but Tal explains why more purpose-built apartment buildings in particular are needed.
"The demand in part is coming from older people that are downsizing and they would like to deal with companies as opposed to a landlord," says Tal.
There are other factors besides low interest rates that have contributed to a culture of homeownership in Toronto that varies from markets more skewed towards rentals, such as Montreal, Tal suggests.
"I think that part of it has to do with immigration," he offers. "Real estate is extremely important as far as the cultural aspect of owning," he says, mentioning Chinese culture as one example.
Tal says there is some indication — such as larger, more expensive rental units hitting the market — that the tide is already changing when it comes to attitudes towards renting in the GTA.
"I don't think we'll be like New York, where the rental mentality is much more developed, but early signs suggest that we are marching in this direction," says Tal.

"Clearly, low interest rates slow down the process," he adds.