Why a weaker economy could be good for REITs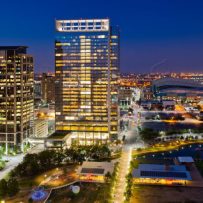 Story by: Jonathan Ratner  |  @jonratner
Despite rising inflation and the negative economic impact stemming from lower oil prices, Canadian REIT executives are pretty optimistic about 2015. The reason: low interest rates.
Canaccord Genuity analysts Mark Rothschild and Jenny Ma attended the Toronto Real Estate Forum last week and found the tone rather bullish, partly because the current low rates are expected to remain that way, at least in the near term.
Cap rates have remained stable near the 6% mark for the past two years, and their healthy spread above long-term interest rates has supported ongoing demand for real estate investment.
Fundamentals for the sector also look good, and there is no shortage of capital seeking investment in real estate.
The analysts noted that REITs, particularly many of the larger players in Canada, have strong balance sheets, and are focused on internal growth and development.
"Though inflation in Canada has been accelerating, the recent decline in oil prices is expected to have a dampening effect, and combined with continued global economic uncertainty and a Canadian labour market that has yet to fully recover, it appears the Bank of Canada may not be in a position to raise interest rates anytime soon," Canaccord said in its weekly REIT Review.
The analysts expect the pullback in oil prices will lead to a weaker Canadian economy — something generally negative for REITs — but they believe it also could provide additional support for low rates, which should allow cap rates to remain low for "an extended period of time."
However, Canaccord cautioned that the idea that long-term interest rates may materially rise should not be ignored. If it happens, the analysts believe it could easy outweigh all the positives currently supporting real estate valuations.