Where to find Ontario's best student housing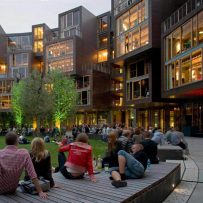 Few real estate investors aren't sweet on student housing, and for good reason, but which regions in Ontario have the most to offer?
The owner of Strauss Investments says cities with satellite schools are a good net because of their small but concentrated markets.
"Laurier and Nipissing universities have satellites in Brantford," said Strauss, who's also a sales representative with Rock Star Real Estate. "In Kitchener, there's the McMaster University Waterloo Regional Campus, and it's its own little pocket market. Satellite schools offer niches that let smaller investors get in there. All you have to do is provide good product and you get lots of action without much competition."
Waterloo, on the other hand, has a glut of inventory largely driven by foreign investment, but Strauss noted that the accommodations are superlative. Nevertheless, the closer the property is to the University of Waterloo, the fewer problems investors will have finding tenants.
Strauss warns that some cities have certain stipulations, like the number of rooms permitted, that can hinder the investment's potential. However, he's bullish on London and Hamilton.
"Purpose-built is obviously better than just taking an old house and converting it, but in Hamilton the areas near Mohawk College and McMaster University are very student-friendly. There are a lot of rental opportunities, and at the brokerage I work at we do a lot of properties in those areas for students that work out very well."
Of course, smaller locales with little to no competition will always yield investors assured returns. Years ago, while Strauss's wife attended a teacher's college in North Bay, he discovered a virtually untapped market.
"One thing I found is there are mass markets, like Waterloo, London, the areas around McMaster and the Toronto and Ottawa universities, that are always going to be prime," he said. "One of the interesting things I've found is that I had a student property in North Bay and prices there were half of what they were in the GTA but the rents were the same."
According to Ryan Coyle, a real estate broker and founder of Connect Asset Management, which strives to turn its clients into millionaires by selecting and managing their real estate investments, student housing is a cornerstone of the firm's strategy because not only does it remunerate well, it is virtually recession-proof.
"Student housing is often referred to as 'recession-free real estate,' meaning that when recessions hit student housing tends to be among the strongest real estate because more people go back to school and that increases the demand on both the rental and the resale side," he said.
"The areas we invest in are seeing some of the highest enrollment rates in the country, and Canadian schools have a shortage of on-campus housing, so there's a new demand for student living, such as condos."