WHAT'S IN THE NDP'S NEW HOUSING POLICY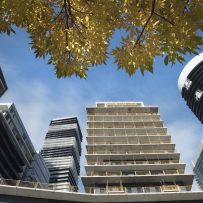 The New Democrats are the official opposition party at Queen's Park, with 40 MPPs to the Progressive Conservatives' 72. They'd like to do better than that in the next provincial election (currently scheduled for 2022), and they're starting to give voters a better sense of what an NDP government would have to offer. The party has already released a long-term-care policy that will make up part of its platform, and on Monday it released a housing policy to go with it.
"We believe housing is a human right. We believe that young people should be able to get a safe, affordable place of their own when they're ready. That folks should be able to rent without the constant threat of eviction or bank-breaking rent hikes," NDP leader Andrea Horwath says in the policy's introduction. "Wherever you live in Ontario, whatever your financial situation, your age, identity, or ability, you deserve a safe, secure place to call home you can afford."
The policy document consists of a number of measures in a few broad categories: increasing the number of affordable homes on the market, protecting both tenants and homebuyers, restraining price spikes, and introducing targeted supports for specific at-need groups.
The party is promising to work with the federal government to build 69,000 new affordable homes over a decade. It also says it'll repair and renovate 260,000 existing affordable homes and provide 30,000 units of supportive housing for people with mental-health and addiction challenges.
The NDP is proposing to adopt a rent-control policy more comprehensive than the one Ontario currently has. The current law exempts units built after November 15, 2018; the NDP would abandon that exemption. The party would also abandon vacancy decontrol — the policy that allows landlords to increase rents however much they like after an existing tenant has moved out (or been evicted). Economists have warned that vacancy decontrol is an important "release valve" in rent-control policies; housing activists have argued that vacancy decontrol gives landlords a strong incentive to evict tenants whenever possible. On that note, the NDP is also promising to crack down on bad-faith evictions and reform the Landlord Tenant Board.
First-time home buyers would get some relief: the NDP is proposing to help with down payments through a shared equity loan of up to 10 per cent of the home's value. This mirrors the existing federal First-time Homebuyers Incentive administered by the CMHC. The NDP version would be called the Home in Ontario Plan.
The party is also pledging to reform Ontario's home-warranty system and to standardize purchase agreements and more closely regulate builders, condominium boards, and tribunals.
Like the current government and the last one, the NDP also supports expanding forms of "gentle density," such as laneway houses and granny flats; it proposes to reform planning rules to encourage more "complete communities" and discourage sprawl. The party also says it'll eliminate mandatory parking minimums, a policy under which municipalities can compel developers to add parking spaces to new construction — effectively increasing the cost of new housing and subsidizing car ownership.
To cool the rapid increases in home prices, the NDP says, it'll tackle money laundering in the province's real-estate market, requiring the disclosure of information about ownership of real estate "to make sure crooks can't hide" behind opaque corporations. (The party says it will make such information available to the public.)
The New Democrats would also increase the current non-resident speculation tax from 15 to 20 per cent and apply it everywhere in Ontario (the current tax is limited to the Greater Golden Horseshoe). They're also proposing to introduce a vacancy tax modelled on the one in British Columbia and to allow municipalities to adopt their own progressive residential-property taxes so that homes over $2 million would pay a higher tax than those under.
The plan includes more targeted measures, too: for example, funding for women's shelters and transition housing for survivors of domestic abuse. The party supports a "For Indigenous, By Indigenous" housing strategy that would support 22,000 additional units of "safe, affordable and culturally appropriate" housing for Indigenous households.
The NDP says that its projected tax increases on such things as speculation and condo flipping would generation $300 million in revenue; that would go toward subsidies for 311,000 households, seeding grants for co-op housing, and funding for the promised 30,000 supportive-housing spaces. Building 69,000 new affordable units would cost $340 million over 10 years. The party says that the Home in Ontario Plan (which is simply a loan that homebuyers would eventually repay) would be self-funding.
The NDP housing proposal will necessarily be part of a larger platform and pitch the party makes to voters in the next election, but it is implicitly making two assumptions about events between now and 2022: housing will still be a top-of-mind issue for voters, and the policies of the current government won't help much. We'll see whether it made the right bet when ballots are counted 19 months from now.
Story by: TVO