WHAT YOU NEED TO KNOW ABOUT RENTING IN CANADA POST-COVID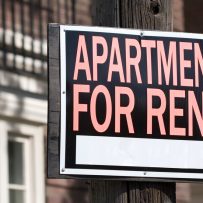 The pandemic has changed more than our makeup routines and work-from-home wardrobes — it's sparked serious changes in Canada's housing market. Home prices skyrocketed throughout much of 2020 and into the start of 2021, fuelled by low supply, high demand, and record-low interest rates. Only as of spring did we start to see signs of a slight cooling off, even though prices are still desperately out of reach for most of us.
The rental market is a different story: Rents across the country started declining shortly after the pandemic hit — to a national average of $1,770 in June 2020, compared to nearly $2,000 the year prior — and further sank in early 2021. While they haven't quite returned to pre-COVID levels (average prices are still down nearly 3% from last year), they've been creeping up since April. Which is problematic. Like housing prices, rents in Canada are still deeply inflated and unaffordable for many — especially lower-income tenants. According to pre-pandemic research, 40% of Canadians spend more than 30% (the benchmark the Canadian Mortgage and Housing Corporation considers affordable) of their income on rent.
With the country opening back up, is it a good time to lock in a new lease? Here, experts share their insights on what the heck is going on in Canada's rental market RN and whether or not you can still score a bit of a deal.
The renters' market is ending
In case the past year and a half feels like a blur, here's a quick recap: People moved out of city centres for more space — no need to pay high rental prices to be near the office when you're working from home — Airbnbs sat empty, immigration stalled, and students returned to their parents' houses as campuses closed.
This left landlords looking to fill empty, mostly downtown units, especially in cities like Toronto and Vancouver. Some even went as far as offering incentives such as a few months free rent or cash. With all these vacancies, tenants, meanwhile, found themselves able to negotiate lower rents or, if their leases were up, upgrade to larger units for the same price as their bachelor pads. January 2021 was a rental low, with prices across Canada sinking to the lowest they've been during the pandemic.
But things are slowly turning back around.
With reopening plans underway and people moving out of mom's house, rents are steadily climbing in city centres — particularly on the outskirts of downtowns where tenants can typically score larger units. Renewed demand, of course, means higher rents: According to data from Rentals.ca, the average rent for *all* property types across the country was $1,721 per month as of June 2021 — a 0.7% increase month-over-month.
Big cities feel the brunt of this: A recent report from Urbanation found that Toronto, for example, is experiencing a surge in new leases — up 108% — and reduced vacancy rates. "Before the pandemic, an average nice, one bedroom in Toronto was close to $2,000," Karen McDermott, a Toronto sales representative with Bosley Real Estate Ltd., tells Refinery29 Canada. "Now it's around $1,836, so it's not quite there, but it's definitely getting back up."
Can I still get lower rent or a deal on a nicer place?
That depends. Noella Ingabire, a Toronto real estate agent with RE/MAX, says the city's downtown high-rises are still cheaper than they were pre-pandemic compared to units outside the core, which makes sense given the 'burbs didn't see the same price drops the city did. Smaller units with less-desirable layouts or basement apartments are also not getting the same attention as larger units or unique buildings, so if you're willing to make some sacrifices, you may be able to save some money.
"People are looking for more corner units with balconies, or more windows — especially if they're working from home," Ingabire says. "Units that are smaller are not moving as fast unless they're really priced well."
A similar trend is happening in Vancouver, says Tirajeh Mazaheri, a real estate agent in the city's Coldwell Banker Prestige Realty. While downtown Van is still recovering, and rent negotiations may be possible, "the suburbs are definitely very hot," Mazaheri tells Refinery29 Canada. "Out of downtown Vancouver people are willing to pay a little bit more to have more space for the same amount of rent that they would in downtown."
There are also parts of Canada that haven't seen the record rents like Toronto and Vancouver have, so the dip in rental prices makes signing a lease more feasible. Rental prices in Regina, Sask., Grand Prairie, Alta., and St. John's, N.L. remain lower than the national average.
How do the prices of home rentals compare to apartments?
Unfortunately, those prices are heating up, too.
Between schools and workplaces reopening, immigration levels returning, and the wild housing market that continues to price many people out, renting a house or townhouse is the only viable option for many — especially families.
In the Greater Toronto Area this summer, there have been reports of renters bidding (and losing) on rental homes, with many leases going over asking. Renters are being forced to blind bid on properties, much like buyers at the height of the market, which is driving rental prices way, way up.
"We're seeing multiple offers now on places and they're going fast," McDermott says. "Even in the last three weeks, I booked viewings 24 hours in advance [for my clients] and a lot of them went off the market before I even got to see them."
What does the future of the renters' market look like in Canada?
Based on current trends, experts say the market is only going to get more competitive. There's long been calls for provincial and federal governments to put in stronger rent-control measures, especially in Quebec, and cities like Toronto and Vancouver where the market locks many people out. Ontario froze rents at 2020 rates because of COVID, but that ends in December. (Remember, in most provinces, your landlord can only raise the rent by a certain percentage, although there are ways around this.) Recent encampment evictions in Toronto have further highlighted the lack of affordable housing, among many other social and structural issues.
While there's been efforts to build more affordable housing via initiatives like the 2017 National Housing Strategy, serious problems remain and more funding and intervention required.  Rental prices still aren't feasible for many tenants. The pandemic has further exacerbated the housing crisis in Canada, with people losing jobs and unable to pay rent and evictions becoming increasingly common.
"If Canadians can't buy homes, they will need to rent, but our rental sector can't accommodate everyone who is being priced out," Jim Dunn, the department chair of the Department of Health, Aging and Society at McMaster University recently wrote for The Conversation. "We need to retain existing affordable housing in the market and to build more rental housing that is affordable to those in the greatest need."