What would a Toronto real estate correction mean for other Ontario markets?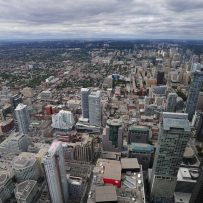 If home prices correct in the Greater Toronto Area, other Ontario markets will take a hit, a new report from the Canada Mortgage and Housing Corporation (CMHC) suggests.
The shockwaves would be tied to what the national housing agency calls "price spillover," which occurs when high home prices in a certain market send buyers packing for cheaper municipalities. This has been most obvious in the pricey single-detached segment, which includes detached and semi-detached homes, CMHC says in its latest Housing Market Insight report.
"Overall, our evidence indicates that increasing single-family home prices in the GTA are motivating buyers to purchase more affordable homes in nearby centres like Hamilton, Barrie and Guelph," explains Jean Sébastien Michel, principal of market analysis at CMHC, in a statement. "In turn, this purchasing behaviour is driving up house prices in these markets," he adds.
Recently, buyers have been shifting attention to even farther flung markets, including St. Catharines-Niagara, which was recently named one of the tightest resale markets in the country.
CMHC says the correlation it sees between the GTA and surrounding markets in terms of price growth suggests "some potential buyers are unable or unwilling to purchase an apartment in the GTA, and are instead choosing to purchase a property in a nearby CMA when GTA low-rise home prices rise."
The average price of a detached home on the GTA's resale market last month was $1,016,145, representing an increase of 23.1 per cent from a year prior, according to the Toronto Real Estate Board. And builders have been completing fewer detached homes in recent years as demand persists. There were only 789 new detached homes up for sale across the GTA at November's end, the Building Industry and Land Development Association states, and the average listing price for that housing type reached $1,230,962 that month, up 27 per cent year-over-year.
While interest in single-family homes drives buyers to markets on the fringes of the GTA — where this housing type is cheaper and commuting daily for work is still possible — some cities that are even farther away are seeing growth for another reason, CMHC speculates. "Sudbury and Ottawa prices appear to be affected by GTA apartment prices, possibly because these two CMAs are relatively affordable and yet still offer high wage jobs," CMHC adds.
Price spillover can work both ways, though. Just as GTA prices are driving home values in other Ontario markets right now, in the event of a correction, they can also pull down surrounding markets that have been propped up for reasons beyond fundamentals, like employment and interest rates.
CMHC estimates if home prices dropped 1 per cent in the GTA, they would fall 1.4 per cent in Hamilton. A 10-per-cent GTA correction, then, could chop 14 per cent of Hamilton home prices. Note these are "in no way predictions," CMHC says in a news release.
"If GTA prices were to contract, price spillovers would lead to price contractions in nearby CMAs, such that the gaps between house prices in these CMAs and house prices in the GTA would shrink."