WHAT WILL THE NEXT FEW MONTHS LOOK LIKE FOR THE RENTAL MARKET IN CANADA?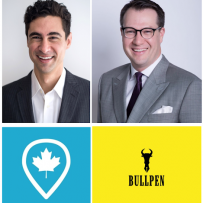 The average rent for all properties in Canada increased 1 per cent in March over February to $1,842, but decreased by 1.2 per cent annually, according to the monthly National Rent Report from Rentals.ca and Bullpen Research & Consulting.
Uncertainty rules the rental market as the coronavirus pandemic plays out, but one good bet is that average monthly rental rates will decline in the next few months.
By how much could depend on some variables including: how many will be laid off, lose hours, or take pay cuts; how many renters will not want to move; how many tenants will not pay rent and how many would-be home buyers will choose to continue to rent.
Consider also fewer evictions per government decree, less immigration, fewer students starting new jobs, and more young adults moving back in with their parents to save money. The latest report indicates those between the ages of 15 and 24 took the worst hit in job losses.
It might be too early to assess the impact of the pandemic on the Canadian rental market from March listings data from Rentals.ca, but if the results are any indication of what is to come, a large rent decline isn't likely.
Toronto led all 30 cities on the list for average monthly rent in March for a one-bedroom home at $2,213, and Vancouver had the most expensive average monthly rent for a two-bedroom at $2,945. Toronto rents were down slightly month over month, while Vancouver rents increased.
Eight of the top 10 priciest municipalities for renters were in Ontario, and seven of those were municipalities and former municipalities in the Greater Toronto Area.
Toronto had the highest average asking rents in Canada in March for apartments (both tenures) at $2,450 per month, followed by Vancouver at $2,381.
Several Ontario municipalities and former municipalities have experienced significant rent growth year over year with Kitchener up 23 per cent, Hamilton up 22 per cent, Scarborough up 18 per cent, and North York up 12 per cent. Saskatoon rents declined by 24 per cent annually.
The chart below shows the month-over-month change in average rents for only rental and condominium apartments in the same municipalities and former municipalities in Canada.
Kitchener rents were up 3.9 per cent monthly. Vancouver was up by 3.5 per cent monthly, despite an annual decline.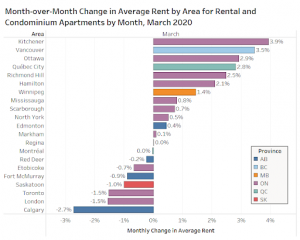 Other takeaways from the April National Rent Report include:
On a provincial level, Ontario had the highest rental rates in March 2020, with landlords seeking $2,244 per month on average (all property types). British Columbia had the second highest rental rate at $1,959 per month, while Newfoundland and Labrador had the lowest at $934.
With the market not operating "normally" since the start of March because of  COVID-19, the seasonally strong activity in early spring will be disrupted. This is especially true in municipalities with a high concentration of students, who could spend the semester at home taking classes online, as opposed to living in housing close to the campus.
The average rental rate for rental apartments in old Toronto was up 11 per cent annually from $2,078 per month to $2,307 per month, but declined 1.2 per cent month-over-month.
It is likely that a number of units previously used as full-time AirBnB units are now being listed for rent as the tourist and business travel markets grind to a halt. It is likely that some of these owners will remove the furniture and list the property on Rentals.ca, as listings for apartments grew by 12 per cent month-over-month.
The number of pageviews increased in six of the seven major provinces in Canada month over month. Part of the reason is potential tenants no longer have the ability to enter the units and tour the suites, so they are more likely to spend more time researching the properties online and taking virtual tours.
According to findings from Local Logic, there has been an increase of 200 per cent to 500 per cent among Canadian online real estate portals for virtual tours for properties, as showings have been discouraged or banned in certain parts of the country. (Rentals.ca has committed to significantly lowering the cost of 3-D and virtual tours until July 1 to help with social distancing.)
"Despite the global pandemic, we still experienced an increase in search activity on Rentals.ca in March," said Matt Danison, CEO of Rentals.ca. "Even with financial uncertainty, people with stable employment will be looking for deals in many of the markets that were strong before the COVID-19 crisis."
"With the national economy partially on pause, a significant portion of tenants have been laid off or unable to work; they will not be looking for apartments, and in many cases won't be able to pay their current rent," said Ben Myers, president of Bullpen Research & Consulting. "Our expectation is that rental rates will decline in the coming months, but some of that decline will not be captured due to a big increase in upfront incentives"
The National Rent Report charts and analyzes monthly, quarterly and annual rates and trends in the rental market on a national, provincial, and municipal level across all listings on Rentals.ca for Canada.
The Rentals.ca numbers show vacated properties that better reflect current values. The figures better represent the actual rents a potential tenant would encounter when seeking to rent an apartment.
Story by: Rentals.ca and Bullpen Research & Consulting