What to expect when the B.C. legislature is recalled June 22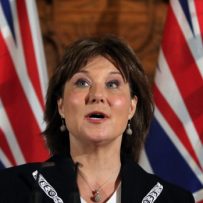 B.C. Premier Christy Clark announced last week she would recall the B.C. legislature on June 22 – about six weeks after a provincial election that saw the Liberals fail to secure a majority government.  
Normally, after a government is elected, the first order of business is to secure a Speaker. No party is obligated to volunteer one of their members, but if nobody does, experts say another election will likely be called.
"What we would normally expect is members would go into the legislature and the Clerk would [preside over the selection] of the Speaker," Hamish Telford, an associate professor in the department of political science at the University of the Fraser Valley, told BNN in a phone interview earlier this week.
Initially, no party indicated they would put forth a speaker. But that changed Monday when Clark, who has said she expects to lose the vote of confidence, said the Liberals would volunteer one of their members. A Speaker is required before the Throne Speech can be delivered.
"What I think is emerging – the way I'm reading my tea leaves – is the Liberals are saying it is incumbent upon the government to put forth a speaker."  
It's possible, Telford continued, that the Liberals' strategy is to put forth a Speaker, be defeated, then in turn expect the NDP to put forth one of their MLAs.
In last month's election, the Liberals won 43 seats in the 87-seat legislature, after which the provincial NDP and Green parties struck a deal that would allow the NDP to form a minority government. This pact leaves the NDP-Green alliance with a combined 44 seats.
There could be a tie on Thursday in the event that the NDP gives up one of their members to the Speaker position. The Speaker would then have to vote in order to break the tie, meaning the the future of the next B.C. government could come down to that one vote. Conventionally, the Speaker gives the vote to the party that was elected with the most seats.
The shifting political landscape in the province had put into question big projects like Kinder Morgan's Trans Mountain expansion project. Provincial NDP Leader John Horgan is opposed to the expansion, and said if he became Premier, would try to block the project, which has already been approved by Ottawa.
Uncertainty will remain until Thursday, but Telford said he doesn't expect Clark to put up a hard fight to maintain power, the way former Prime Minister Stephen Harper did in 2011 after a vote of no confidence.  
"It doesn't seem to me [Clark] has any more fight left in her," Telford said. "The sense that I have is that people want Christy Clark to stand aside gracefully. Even Liberals are resigned to that eventuality."
However, Telford said that in the event a Speaker is put forth, he expects the B.C. Liberals to end their term with a Throne Speech "of the ages."