WHAT OPPORTUNITIES DO MAJOR RENTAL HOUSING PROVIDERS SEE TODAY?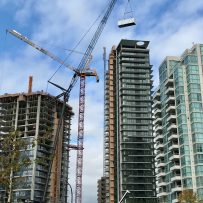 Rental housing providers currently face many risks and challenges, as well as having various opportunities. What follows are key insights provided at the Executive Roundtable held as part of CFAA's Fall 2020 webinar series.
The panelists on the Executive Roundtable were: Philip Fraser, President & Chief Executive Officer at Killam REIT; Anthony Lanni, Executive Vice President, Residential, at QuadReal; David Horwood, Vice President at The Effort Trust Company; and Glen MacMullin, Chief Investment Officer at Minto.
As to risks, the panelists saw political risks as the most important. The office and industrial sectors are not subject to political risks, but rental housing certainly is. Will a new government make rent control tighter? Critically, in Ontario, will a government take away vacancy decontrol/recontrol? What about the costs and delays in bringing new rental supply to market?
How are the panelists mitigating these risks? Three of the four operate across multiple provinces.  All operate across different municipalities. That means negative rule changes do not affect their portfolio all at once. All of the four emphasized the need for rental providers to work with CFAA and the various provincial apartment associations to catch the ear of government, and protect the rental housing industry.
As to opportunities, the panelists saw several. Anthony Lanni focused on providing better and more cost-effective service through new technology, and on raising rents through providing better service. Anthony noted that in many US rental markets, purpose-built, professionally managed rental units command a premium rent over condo rentals. David Horwood saw opportunity in catering to households who choose to rent, rather than households who need to rent.
On the other hand, Philip Fraser saw opportunities in reducing expenses. He cited geo-thermal energy and solar panels as new energy technologies which will cut costs, and increase the bottom line.
All the panelists saw opportunities in intensifying rental sites. Sometimes, excess land can be had for practically nothing, along with high priced existing rental units, allowing new units to be added to existing rental complexes.
Glen MacMullin cited unused parking stalls as a related opportunity. In some rental complexes, so much extra parking is available that no parking needs to be built for hundreds of new rentals units, thus saving up to $60,000 in construction costs per door.
On the subject of net cap rates, the panelists were united. Low as cap rates are, all four panelists see them moving even lower, albeit only by 25 or 50 basis points (0.25% or 0.5%).
What are the properties that have attracted the interest of major rental housing providers as buyers? The panelists told us at the Executive Roundtable. If you want to find out, register for the upcoming four remaining live webinars in CFAA's Fall 2020 Webinar series. With that registration package, you will receive access to the recordings of all six webinars, including the Executive Roundtable, and Benjamin Tal's Fall Economic Update.
You will also be able to take in:
Operations Roundtable, Tuesday, Nov 3 with Ruth Buckle, Jonathan Brimmell, John Loubser and Kris Figurski.
What you need to know about CMHC's new mortgage insurance rules, Tuesday, Nov 10, a must for companies planning capital expenditures (capex), for syndicates some of whose members want to invest in additional rental property, and for rental providers with low leverage!
Technology Updates for COVID-19 and beyond, Wednesday, Nov 18.
Future proofing your business with effective energy and water management strategies, Tuesday, Nov 24.
Register today at https://cfaa-fcapi.org/events-awards/webinars/!
CFAA Direct and Affiliate Members who want their preferred pricing need to email events@cfaa-fcapi.org before completing their registration, for their discount code. Affiliate Members are members of CFAA-member associations.
Story by: John Dickie, CFAA President