What And How Millennials Search When Apartment Hunting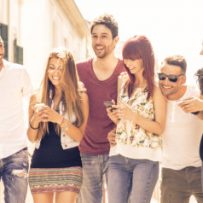 Story via the Huffingtonpost.ca
Millennials have grown up. The kids of the '90s have turned into the young adults of 2016. They're entering post-secondary, the workforce, and the housing market.
Many millennials will dip their toes into the housing market by searching for their first apartment. The need to own a home is often displaced by the desire to be unencumbered, mobile, and to be living an urban lifestyle.
When they look for an apartment, this generation does things differently than its parents. There's no looking through the newspapers and circling potential apartment listings with a red pen (anyone remember those days?). Searching for apartments, condos and homes today all start online. Technology has reshaped the apartment search and living experience.
For today's generation of rentseeker's and homebuyers, the web is almost where they live. They grew up with it and that's all they know — blossoming from their teenage years with MSN messenger and graduating with facebook. And as TechCrunch recently reported, Apartments are the Hot New Tech Sector.
Mobile Search
For millennials, smartphones are extensions of their own hands — always within reach. Smartphones and tablets are their personal computers, and these devices are portable, convenient, and easy to use. Millennials are the generation of, "is there an app for that?" and smart businesses know their answer needs to be, "yes."
It's no different for the real estate sector. When a millennial starts their apartment search, they are going to start online, and will almost certainly use their mobile phone, tablet or PC. If a company or property isn't listed on a real estate website such as RentSeeker.ca, or classifieds listing site like Kijiji, landlords will be missing out on almost all prospective renters.
For real estate owners and managers, a mobile-friendly website is step one. Step two is having your properties listed on an app. An intuitive app, like RentSeeker's mobile app available on iTunes and Google Play, provides millennials a home-base from which to search for their perfect apartment. It's easy for them to login to the app as often as they want and to scroll through new listings in their target neighbourhoods and budget.
With an easy-to-use app at their fingertips, millennials can be more engaged in the apartment-search process "on-the-go".
Attracting Millennials with Amenities
When it comes to attracting millennials to renting an apartment or condo, there's a list of amenities which millennials are searching for. This generation is social — hello facebook and twitter — and they want things to look "instagram-worthy". This translates into a generation that wants a trendy, updated apartment in a building with tempting amenities.
When your square-footage is on the smaller side, having a social room in your building is a huge advantage. Millennials are a social bunch, and it's a bonus for them to have a space to "hang out" together.
Theater rooms are also a hit with this generation. They allow renters to experience the thrill of heading out to watch a new movie on the big-screen without having to leave the building. It's the best of both worlds (especially on a freezing winter night in Toronto).
A healthy lifestyle is becoming more and more important to millennials, and they want to live somewhere that can help support their goals. Apartment and Condo buildings with gyms, yoga rooms, and pools are in high-demand. Convenience is key here, and renters want to be able to come home and unwind in their apartment building's own recreation and wellness facilities.
Apartment buildings that offer mixed-use space — such as commercial space on the ground floor — have a leg-up on traditional residential-only buildings because they come with a walkable lifestyle.
Millennials are less interested in sprawl and more interested in vibrant communities and shopping local. When their favourite coffee shop is right downstairs in their own apartment building, millennials can spend less time on commutes and more time engaging in the community.
Millennials are the up-and-coming generation — and they're already on the apartment hunt. Reach them by speaking their mobile-friendly language. Intuitive websites and apps offer them the tools they need to find their next home.