West Is Best in One of Canada's Most Synchronized Expansions
Western Canada retook its lead in the country's growth tables last year, with Alberta recording the fastest expansion among the 10 provinces and British Columbia posting its strongest pace in more than a decade.
Gross domestic product grew by 4.9 percent in Alberta, with the oil-producing province recovering from two straight years of falling output following the collapse of oil prices. British Columbia's economy expanded by 3.9 percent, the fastest pace for that province since 2005.
It's a return to normal for Canada — Western provinces have outpaced central Canada in growth for much of the past 15 years until the oil price slump. But it was no reflection of any weakness in other parts of the country last year.
The West is the Best
Alberta and B.C led GDP growth last year; 1st time all provinces' output grows since 2011: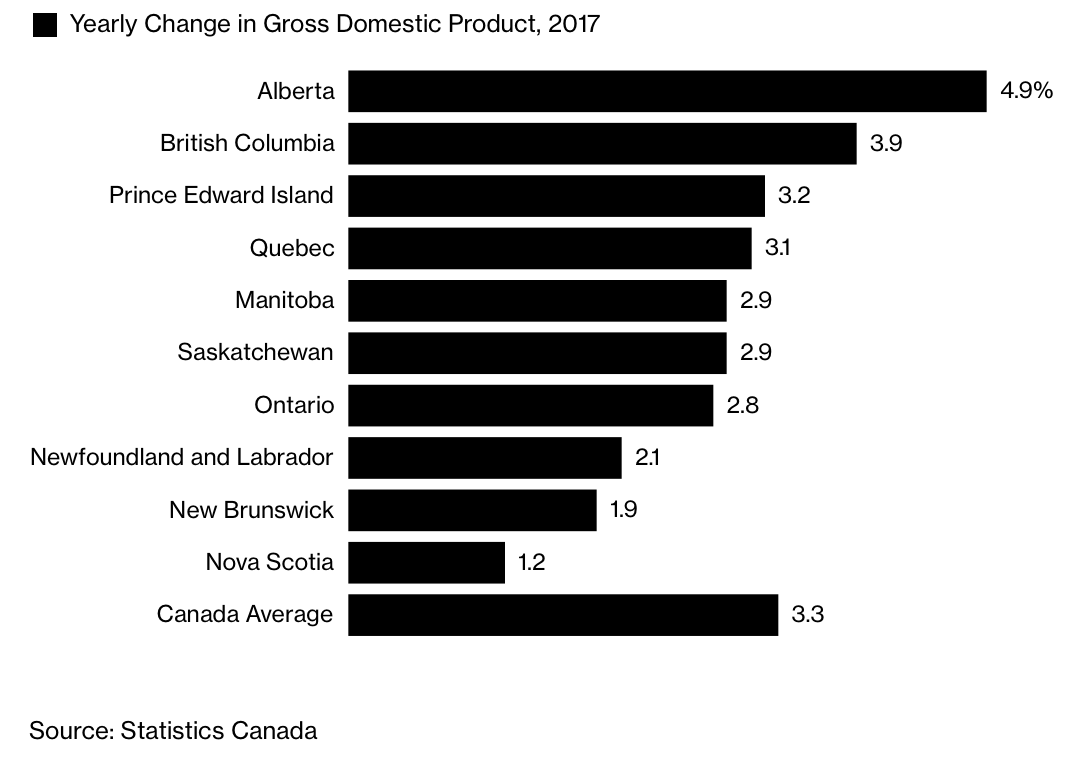 Canada's economy in 2017 had one of its most broad-based expansions ever, with no region recording a deterioration and GDP rising in every province for the first time since 2011.
Quebec's economy grew 3.1 percent in 2017, the strongest pace for that province since 2000 and twice its rate of growth in 2016. Ontario's GDP rose 2.8 percent in 2017.
Nationally, Canada's economy expanded 3.3 percent in 2017, according to the release, which is based on industry data. That's slightly higher than the 3 percent pace recently reported by Statistics Canada under a different expenditure-based measure. Typically those two measures will converge following revisions.