Webequie First Nation completes multiple housing projects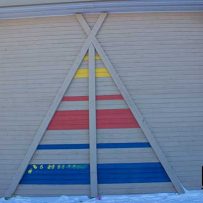 The federal government announced the completion of recent housing projects in the indigenous community of Webequie First Nation in Ontario.
Bob Naulat, MP for Kenora, on behalf of the Jane Philpott, Minister of Indigenous Services, joined Chief Cornelius Wabasse and the community of Webequie First Nation to celebrate the completion of several recent housing projects. These include 14 new modular homes, two new four-plexes, five single-family homes, and renovations to 14 existing homes.
The Canadian government is working in partnership with First Nation communities to build new and renovated housing, reduce overcrowding, and enhance the quality of life of families and residents.
All of these housing projects were funded through the Canadian government's Community Wellbeing Pilot Project, launched in February 2016. Since 2016, the federal government has invested a total of $9,387,564 toward these housing projects.
"Every person deserves a safe and healthy place to call home. Our government was proud to partner with Webequie First Nation on their newly completed housing projects, which will provide 29 families in the community with new, safe and modern homes," said Philpott
"Through the Community Wellbeing Pilot Project, a whole-of-government approach focusing on First Nation-identified priorities, we are working with Webequie and other communities to reduce the housing gap and support the needs of First Nations families in communities across the country."
As a result of these collaborative efforts, the community is able to provide new, safe and modern homes to 29 families, and was able to benefit from employment and business opportunities associated with housing construction and renovations.