'We have to be careful': CIBC's Tal warns Poloz on 3% interest rates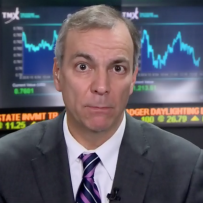 Bank of Canada Governor Stephen Poloz may want Canadians to prepare for three per cent interest rates as the new normal, but one economist is warning that the economy may not be ready.
In a testimony before MPs on Tuesday in Ottawa, Poloz said the current benchmark interest rate is still too stimulative for the improved economy, and reiterated that it will rise to what the bank considers its neutral range of between 2.5 and 3.5 per cent.
But Benjamin Tal, deputy chief economist with CIBC World Markets, called the neutral rate a "theoretical number" and said the Bank of Canada needs to proceed carefully.
"I suggest three per cent may be way too high given where we are in the economy, given the demographic story, given productivity and many other reasons," Tal said, pointing to growth concerns including a slowdown in consumer spending, Canada's cooling housing market and uncertainty in the energy sector. 
"My fear is that we're chasing something that's in the air, and it might actually impact real life. Because every economic recession was helped, if not caused, by monetary policy error in which central bankers were chasing inflation that was not there, took interest rates much too high and killed the economy.
"We have to be careful here."
Tal added that consumer credit is rising at the slowest rate in any non-recessionary period in the past 50 years, indicating that Canadians are heeding to warnings about piling on debt.
"Credit isn't rising fast by any stretch of the imagination," Tal said. "You don't need to tell Canadians not to borrow. They are not borrowing."
Poloz raised the benchmark rate last week for the fifth time in just over a year to 1.75 per cent, its highest level in about a decade.
With files from The Canadian Press