Washington, DC and Toronto top list of cities with the most green roof construction for 2014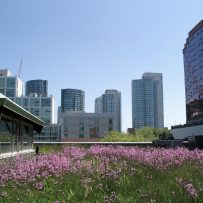 Story by: Monika Warzecha  |  BuzzBuzzHome 
Among North American cities, Washington, DC and Toronto installed the most green roofs in 2014. Washington, DC's 1.2 million square feet of new green roofs gave it the top spot for the fourth year in a row.
Toronto, which installed some 775,216 square feet, took second place, though this was first time a Canadian city has ever cracked the top five in the ranking for the 11 years that Green Roofs for Healthy Cities (GRHC), a non-profit, has been conducting the survey.
The square footage of green roof installations is aggregated geographically to determine the top 10 metropolitan regions for green roof installations in the United States as well as the top five regions in Canada.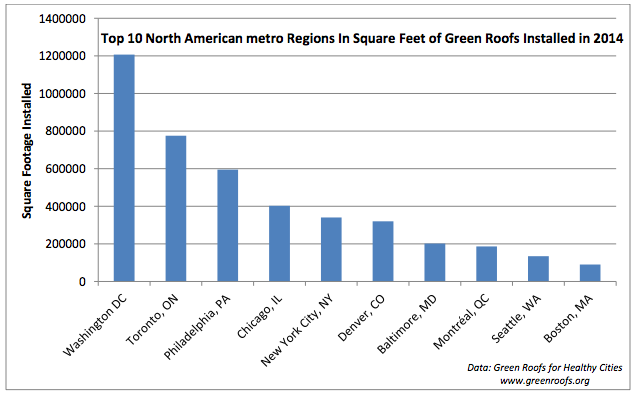 The annual industry growth rates are derived by averaging the change in the square footage recorded by a representative sample of the corporate members that belong to the non-profit, not square footage totals. GRHC believes the data in this report generally understates green roof market activity by anywhere from 25 to 50 percent given that not all firms in the industry are members of GRHC and not all members participate in the annual survey.
"Nonetheless, the data does provide important insights into the composition of the industry," the report noted.
Across North America, green roof installation faltered in 2014 with an industry-wide decline of 12 percent between 2013 and 2014. According to the non-profit, government stimulus funding, which helped create a spike of green roof installation in prior years, was believed to have been mostly spent given the increase in private projects for 2014. Extreme weather conditions also likely put a damper on new installations.
For the reported totals, corporate members of GRHC recorded 5,537,240 square feet of green roofs construction on 887 projects in 2014. The year before saw 6,421,537 square feet installed on 950 projects in 2013.
Private projects accounted for 2,241,832 square feet of installations, compared to 1,696,587 square feet in public projects (4,672 square feet falling into the mixed use category), a reversal of the previous year where the public sector built more green roofs.