WANT TO LOWER RENTS? APARTMENT OWNERS GROUP SAYS ELIMINATE DOUBLE PROPERTY TAX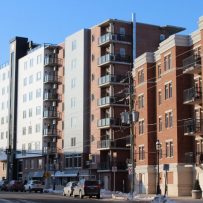 In New Brunswick, non-owner-occupied buildings are charged double the property tax. It's the only province in Canada with such a tax.
NBAOA president Willy Scholten, who is also the chief financial officer of Fredericton-based Colpitts Developments, says property taxes represent 40-45 percent of the operating costs of rental properties in the province and are the single largest expense and directly linked to how much rent is charged.
"We've got your electricity, your garbage removal, your superintendent, your maintenance, your advertising, your insurance, all of those would be 55 to 60 percent of your expenses and property tax alone is 40 to 45 percent," says Scholten. "In my mind, it's the single most determining factor in the rents that we charge. It has to be if it's that big [a portion] of our operating costs."
Calls for eliminating the double tax is nothing new. Over the last decade, it's something building owners and political candidates have advocated for with little movement. But with recent discussions about rent affordability and the province undergoing a 90-day review of the market, Scholten says the double tax's role in that needs to be examined.
"It's absolutely affecting rental rates on a go-forward basis. If we fix that, we're not going to get as big of increases, so we're not going to have to pass that on to tenants. It affects the rental rate in all regards," he says.
"It's pretty simplistic that I'm saying that, but it is simple. We just have such a big tie to our rental rates through this property tax that's ridiculous."
He says the double tax causes several issues for the housing market. One being it hinders out-of-province developers to come in and build. With the province's vacancy rate being very low (around 3 percent, according to the latest numbers), adding inventory is critical to both having enough housing and keep rents affordable.
"The problem right now is rent supply," said Scholten. "We got vacancy rates that are historically low. They're only going to get worse when the pandemic is done and the borders are open again and it's well-known that increasing immigration is the key to our economic survival."
"You have supply and demand issues there and the province of New Brunswick is telling the supply end of this, 'don't do business here in New Brunswick.' For the most part, we're not seeing outside developers coming into New Brunswick."
For local developers like Colpitt's, Scholten says, they continue to build because they want to keep their construction teams working. But with the double property tax along with skyrocketing supply costs, the units they are building need to be in the higher price range.
To think that a developer with today's building costs can build an apartment building and charge $750 for a two-bedroom apartment, the numbers just doesn't work," he says.
Scholten says that with the current building and operation costs (which include the double tax), they would need to charge a higher market price point for even a basic apartment. Since you're already at that point, he says you need to build the units to attract those who can afford that higher rent.
"If we want to build and we want to have rental supply, we have to build for the empty nesters and the working professionals, the higher-end rent payers," says Scholten. "But then, we get to a different level of expectation as well. They're expecting granite countertops and higher finishes. We're already across that boundary and we have to go that next step to attract those tenants."
Though a lot of these new builds are out of a lot of New Brunswickers' budgets, Scholten says they're still a good thing overall because it adds to the market supply, which can help contribute to a healthy vacancy rate. When there's a healthy vacancy rate, that also means rents often go down.
"We need to have a healthy vacancy rate … it's all helping with the rental equation for the rental spectrum. Because we don't have enough [units], then people are all going to have to move up the spectrum, and that's where it becomes an affordability issue," he says.
"If we get to a point where we're at 5-6 percent vacancy again, then all of us that have apartment buildings are going to have to compete for that customer."
Back in February, New Brunswick Premier Blaine Higgs launched a 90-day review of the province's rental market to better understand the state affordable housing in the province.
Scholten says the NBAOA welcomes the review.
"Double taxation is the number one issue for the rental industry in New Brunswick," he says. "I hope they don't forget that when looking at that review."
If supply costs continue to skyrocket, and double property taxation remains, Scholten says local developers will reach the point where they won't pursue new builds.
"With building costs going up so much and property taxes not getting fixed, we're not going to build," he says. "We're going to get to a point where we're going to say "enough is enough."
Story by: Huddle