Walk this way: The evolution of walkable cities in Canada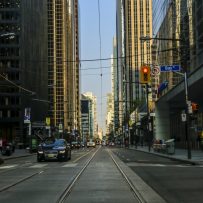 Story by:  Kat Sieniuc | BuzzBuzzHome
Imagine if your morning commute to work amounted to rolling out of bed and pushing the "down" button in the elevator – without ever having to leave the building, let alone drive a car.
That's the reality for residents of Toranomon Hills, a 52-storey skyscraper near Roppongi Hills in Tokyo that also serves as an office building, hotel, garden, historical shrine and chapel, as well as multiple restaurants. It's walking distance from 11 transit lines and built on top of an underground tunnel road designed to ease traffic congestion.
Tokyo is one of the most densely populated cities in the world with over 13 million people and about 6,000 persons per square kilometer. While Canada is a long way off from Tokyo-style density, urban Canadians are increasingly seeing the appeal of growing up instead of out.
Andrew la Fleur, a realtor in Toronto, says it's influencing people's homebuying decisions.
"We are becoming a vertical city," he said. "Whereas before people would see a condo as stepping stone to a house, I think people will be living in condos longer, and people will go from a one bedroom to a two bedroom instead of going from a one bedroom to a house."
At a time when the global population is projected to soar past 10 billion by the end of this century, and atmospheric carbon levels are rising at a record-breaking pace (having already past the 400-parts-per-million milestone last year), the convenience of having everything at your doorstep could be more than just a luxury, but the key to achieving sustainable cities as urban centres grow ever larger.
Buildings make up 12 per cent of Canada's greenhouse gas emissions, with another 24 per cent coming from passenger, freight and off-road transportation, according to Environment Canada.
In general, high density neighbourhoods are more energy efficient than sprawl because a) the more people packed into a building, the more opportunities there are for shared utility servicing, and b) the closer proximity people are to services and transit, the less they use cars, said Jennie Moore, the director of sustainable development at the British Columbia Institute of Technology.
Photo: toranomonhills.com
Moore cautioned, however, that density alone is not a panacea for improving urban sustainability, especially if buildings use inefficient materials like floor-to-ceiling, single-paned-glass windows that release heat and waste energy, like what's been in vogue in Vancouver for the past few years.
"We just assume that higher density would automatically result in more energy efficient buildings and that's not necessarily true," she said. "It has to be high density coupled with smart design."
Concrete and steel, for instance, are good insulators that make for durable buildings, but the manufacturing process is resource-consumptive and accounts for about nine per cent of the world's greenhouse gas emissions.
Wood is also a very insulating material — the pieces are glued together to tight tolerances before construction — and, if harvested sustainably, is a lot more environmentally friendly than concrete: wood actually has a negative carbon footprint because it stores carbon rather than emits it.
Indeed, wood construction has been picking up steam globally as regulators are increasingly looking to permit taller wood structures (construction recently finished in Prince George, B.C. on the world's first all-wood highrise, standing 30 meters high, and Ontario was the latest province to increase residential wood allowances from four to six storeys in their building code).
But high-density is just one component of walkability, something which planning experts agree is perhaps most crucial to sustainability in urban areas.
"The demographic and the attitudes around car-dependence are shifting quickly and the market for walkability is increasing"
Larry Frank, a professor of community and regional planning at the University of British Columbia, has been studying walkability since the late 1980s. His research found people prefer to live in walkable neighbourhoods over unwalkable ones if they have the choice and can afford it.
More than 50 per cent of the people Frank surveyed in Vancouver said they would strongly prefer to live where travel distances are less than three miles even if it means living on a smaller lot, and nearly 65 per cent said they preferred that their home be within a 10-minute walk of shops and services.
Yet while the demand for walkability is there, Frank said, the available real estate in walkable neighbourhoods in Vancouver, for example, is limited and more expensive than car-dependent areas because there just aren't enough of them.
"The demographic and the attitudes around car-dependence are shifting quickly and the market for walkability is increasing quickly [so] the argument is if you increase the supply [of walkable urban areas], you could bring the price down," he said.
Still, Moore pointed out that about 86 per cent of all trips made in Vancouver would need to be by walking, cycling and transit if the city wanted to stay within the global ecological carrying capacity of the earth, dubbed "one planet living" (high-income countries, including Canada, typically use the equivalent of three planets or greater to sustain their activities, according to research by Moore and ecological economist William Rees).
While not there yet, some developers across the country are picking up on the trend toward walkability over sprawl.
In Calgary, public transit is free downtown, and the City has designated transit-oriented development (TOD) sites for developers like Joe Starkman of Knightsbridge Homes to build close to public transportation lines. Starkman just completed two condo towers without parking spots, and another four condos in the TOD zone because he says he wants to target younger buyers who don't necessarily own cars.
"It's a real transition for Calgary to do something that's against the grain because Calgary is a really car-oriented city," Starkman said.
After the Pan American Games in Toronto next summer, developers will turn the athlete's village in the city's West Don Lands area into a walkable neighbourhood with a variety of retail space and housing — a $541-million project that includes 810 condominium units, 253 affordable housing units, a George Brown College residence with 500 student-housing beds, as well as a YMCA.
But if you want to get married in the chapel upstairs, have the reception in the restaurant and get your honeymoon started at the spa, all in the comfort of your condo building, you might have to go to Tokyo.
Follow Kat Sieniuc on Twitter: @katsieniuc