Vision Vancouver's economic plan focuses on growing tech sector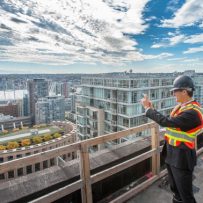 Story by: Mike Hager, POSTMEDIA NEWS
Vancouver can always rely on B.C.'s vast resource sector to be an economic engine for the city, but the real opportunity for growth is in incubating more tech and digital media startups and luring bigger firms like Amazon to set up shop.
That's according to Vision Vancouver's four-year economic plan for the city, which is full of the party's longtime boosting of those sectors and includes several new proposals, such as supporting an informal system of classes to teach people digital skills, as well as working with startups to make the industrial areas they often inhabit safer and easier to get to via transit.
"Resource industries are here, they're part of Vancouver's economic success and they always will be," Mayor Gregor Robertson said at a quiet campaign news conference held Sunday inside the soon-to-be-opened Telus Garden tower.
"Six years ago people weren't talking about Microsoft, Amazon, Sony Imageworks, Hootsuite — digital companies that have moved here.
"We've seen an incredible growth in local tech companies and in some of the big players globally coming to Vancouver and building significant operations — that's where we're focusing our attention to make sure we capitalize on a global opportunity to diversify our economy."
While the provincial government can advocate for the mining and energy sectors that it regulates, Robertson said his party would create a roundtable forum for representatives of major tech firms to speak directly with city staff to solve logistical barriers, such as access to parking, they face in Vancouver.
Robertson reiterated his party's commitment to continue the Vancouver Economic Commission's involvement with venture capital funding for startups.
That came in the face of NPA mayoral candidate Kirk LaPointe's criticism last week that it should instead focus on attracting private-sector investment in resource-sector businesses that create high-paying jobs.
Vision held Sunday's news conference at the $750- million Telus Garden tower, which is set to open as early as December and will house a satellite office of Internet shopping giant Amazon.
Robertson said the tower would contribute $8 million to $10 million in taxes to the city and touted it as one of seven commercial buildings under construction this year that will help downtown Vancouver's tight market for office space.
Original source article: Vision Vancouver's economic plan focuses on growing tech sector