VANCOUVER WELCOMES AN INFLUX OF NEW RENTAL DEVELOPMENT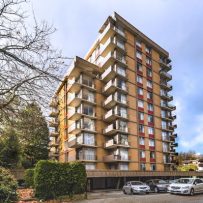 A plan is under way to add three towers to an existing four-tower rental property in Burnaby that was originally built in 1973. If approved, it will be the largest residential rental complex in Metro Vancouver.
Starlight, Canada's largest developer of purpose-built rental properties, has become increasingly active in British Columbia in recent years. A high demand for rental and a growing population are among the fundamental draws for it and many other rental developers, as well as the fact that the region has weathered recessions and proven resilient.
As part of its rezoning application, the company has a plan to add 1,200 new rental units on a 7.4 acre site near Lougheed Mall in Burnaby, which will go to public hearing this year. In 2015, the company had purchased the Lougheed Village site at 9500 Erickson Drive, Burnaby, located in the Lougheed Town Centre Plan area. The site has 528 existing rental units in four towers, which Starlight has since renovated.
Several months ago, the company changed its previous submission to the city of Burnaby from 1,000 newly developed units to 1,200 units, which would bring an additional three towers to the site, at 36, 39 and 48 storeys high. The total of 1,728 units in seven towers included in the most recent design would triple the density, said Starlight head of development and construction, Josh Kaufman. The ambitious plan includes 12,000 square feet of commercial space as well, including a clubhouse and day care.
The proposal aligns with a Housing Needs Report released by Burnaby city in November, which forecasts that 5,690 new rental units will need to come online in the next decade in order to meet population growth. The report says that the number of purpose-built rental units had decreased by 8.8 per cent between 2008 and 2019.
"Before we embark on something as ambitious as this project, it's important to know who your audience is, so we had lots of discussions and had staff figure out whether this will have legs," Mr. Kaufman said. "We have had a positive reception. They haven't had a lot of purpose-built rental in this market. [The city] saw the opportunity for growth.
"We want to be a really good pilot project for other large-scale purpose-built developments in B.C, if not across the country.
"Not to sound narcissistic," he said, "but we are the leaders. We are the best in terms of what we do. We have the largest portfolio, and with that comes huge responsibility. So we want to continue to be a leader out there. We want to build the best communities that we can, and our growth should continue."
Mr. Kaufman said there are several reasons they've become more interested in the region. He cited increased population due to immigration and tech industry job opportunities, livability, lack of available land for development and limited apartment stock as key market fundamentals in the region. The resulting interest has made it more competitive to find centrally located, large properties that make economic sense, such as Lougheed Village.
"It is also more difficult to find institutional quality assets that fit our criteria. Therefore, we are taking the approach to look at our existing apartments to assess opportunities for infill development in Metro Vancouver.
"A 7.4 acre site doesn't come across that often, so this is a great opportunity, and the largest single development opportunity here, but it's also the way we buy our assets."
The company already owns about 6,000 rental units in B.C., with plans under way to add 7,500 units through development in the next 10 to 15 years. Of the units they own, about 4,000 were acquired recently. The company has other projects underway in downtown Victoria, North Vancouver, Nanaimo and New Westminster, and is holding other properties in the region for future development. A key part of their strategy is to take sites that are underbuilt and add value to them, such as Lougheed Village.
Mark Goodman, principal of Goodman Commercial, says that it's becoming increasingly popular for investors to buy rental properties with infill potential, such as the Starlight purchase at Lougheed. He was the listing agent for a 16-unit West End Vancouver pre-1940s apartment block at 1019 Bute Str., marketed for its infill potential. Infill on the site is a possibility if the owner were to enter into a Heritage Revitalization Agreement with the city in exchange for density, for example. Mr. Goodman pointed to other active listings for rental properties with infill potential, including 12-storey concrete Centennial House at 725 W. 70th Ave. in Marpole and the 12-storey Georgian House at 5450 Vine St. in Kerrisdale.
He and his father David were the listing brokers for the Lougheed Village property when it sold to investor group, Beach Properties. The asking price was $100-million and it sold for $90-million, according to Mr. Goodman. The gross income generated on the property at the time was $7.4-million. It was touted at the time as the third biggest transaction of its type in B.C.
Starlight is reported to have paid about $160-million for the property in 2015. Mr. Goodman says that changing land use policies, geared toward rental development, have also attracted new buyers to the region. He says that suggestions these big players will raise rents to generate profits is "fear mongering."
"They are bringing a maturity to the business, checks and balances; they are transparent; they have to follow the rules; they are accountable. A lot of them are public companies," Mr. Goodman said. "One could argue that the mom and pops who are not capitalized as well with their razor-thin margins are more motivated to raise the rents as much as possible, and they don't have the capital for maintenance. Institutional investors are well capitalized."
Starlight also purchased the New Westminster high-rise Aqua building at Plaza 88 in November, which has around 400 rental units and retail space. Like Burnaby, until recent years, New Westminster had for decades seen a shortfall of purpose-built rental. Mayor Jonathan Cote said they've seen a significant number of new rental projects arrive in the past ten years, partly owing to changes in local government policy. However, the challenge of meeting the needs of low-income earners continues. Burnaby's Housing Needs Report also cites a greater housing need for those making $35,000 to $59,999, and under $35,000.
"It's a positive, and long overdue," Mr. Cote said. "Having said that, it's also not a cure-all, particularly in the short-term, to affordable housing challenges that we face in Metro Vancouver. Brand new market housing, although important to add to the system, when we actually look at rents in the market coming on stream there, it's still missing a significant part of the population that it is not able to serve, and not able to contribute there, and in the short term, it won't. It's strictly a market perspective."
Mr. Cote said the arrival of big players into the market means that policies are working, but he says that more policy work needs to be done, by all levels of government. More supply alone will not provide affordable housing.
"It can be a good sign when the big players start to take notice, and start to build and develop. It does mean the policies are making sense…But I think we have to be realistic. The reason they are coming into the market is the market now makes more financial sense. It's certainly not a move that's being done for non-financial reasons.
"In Metro Vancouver we have seen a very healthy increase in housing supply, yet only seen affordability get worse, and to me that signals that there're isn't a supply and demand problem at play, but there are other important factors involved that if ignored won't solve the problem. Just building supply has proven over the last decade that it hasn't resolved the affordability challenges. More policy needs work to be done."
Story by: The Globe and Mail