Vancouver rentals quadruple, but residents question affordability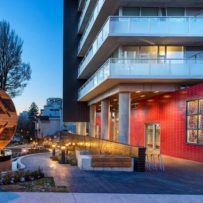 Story by: CBC News
City incentive program 'encouraged developers to switch to rentals,' says housing budget chief Mukhtar Latif
The percentage of new rental units built in Vancouver has soared in the last decade — but some residents say it has not led to more affordable housing.
Mukhtar Latif, the city's housing budget chief, said new rental units jumped from five per cent of new housing starts between 2005-2009 to roughly 20 per cent between 2010 and 2014.
He attributes the jump to initiatives that encouraged developers to build rental units over condos.
"[The program] has had a big impact," Latif said. "It will create affordability over time because we are are getting new supply coming in."
The city launched the program six years ago, giving developers incentives, including parking reductions, higher density allowances and waiving development cost if they built rental units.
Latif said the incentives worked. According to the Canadian Mortgage and Housing Corporation, (CMHC) there were about 4,600 rental housing construction starts between 2010 and 2014. By contrast, between 2005-2009, the CMHC counted only about 1,000 total rental starts.
New West End rentals too steep, say residents
One of the new rental starts was a 22-storey high rise from developer Westbank Corp. on the corner of Broughton and Comox streets in the West End.
The 192-unit building, approved in 2012, opened last year. But some area residents have complained the rents are too steep. A two-bedroom apartment was recently listed at nearly $3,500 per month.
Randy Helten, who heads a West End residents' association, says the apartment building was pitched to the community as a development that would increase the pool of affordable housing in the area.
"The city should be monitoring what kind of rents are being charged," Helton said. "At the very least that should be feedback for mayor and council to see if their policies and decisions are providing affordable housing."
Latif said the incentive program initially placed no rent limits on developers, but those regulations have since been amended. Since 2013, developers are required to place limits on rents to qualify for development waivers.
Latif said the goal of the program was simply to encourage developers to built rental buildings. In that respect, the West End building and incentive program are successes, he argues.
"The aim of the pilot was to switch to secure market rentals from condos. The alternative would have been a condo building and no rentals. The fact that we were able to introduce 192 market rentals has enabled people to move into that property.
"That means they're not putting pressure on the existing stock and pushing rents up on the affordable stock in the West End."