Vancouver is world's 3rd least affordable city – report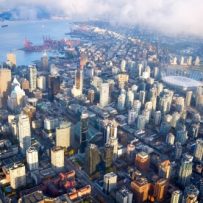 Vancouver is the least affordable city in Canada and the third least affordable in the world, according to the Demographia International Housing Affordability Survey.
The annual report ranked Hong Kong first – for the eighth consecutive year – followed by Sydney. Auckland and Melbourne rounded out the top five. Vancouver was the only Canadian city in the top ten. On the other hand, Ireland was ranked as the most affordable city.
Rankings were based on the ratio of a city's median housing price to its median income. Hong Kong is a "severely unaffordable market" as median home costs there were 19.4 times the median income. Vancouver is also a severely unaffordable market with a comparable figure of 12.6.
In particular, the report said Vancouver has experienced the greatest housing affordability deterioration among major markets with the comparable figure rising by more than 2.35 times, from 5.3 in 2004 to 12.6 in 2017. The city already had a severely unaffordable market when the report's first edition came out in 2004.
The B.C. government's efforts to cool the market by imposing a foreign buyers' tax last year seem to have worked at least temporarily. "However, house prices are now rising again, with an 11 percent increase over the past year, approximately four times the increase in average earnings," said the report.    
"Price have been the smallest in most expensive housing, single detached housing (three percent), much of it beyond the reach of most middle-income households. Prices at the middle of the market and lower ends of the market rose much more, 15 percent in townhouses and 22 percent in apartment condominiums" it added.
Toronto was also ranked as a severely unaffordable market, as median home prices there are 7.9 times larger than the median income – a far cry from the 3.9 figure in 2004.
It wasn't all bad news for Canada. Results also showed it has five of the nine most affordable markets, with Moncton, NB at second place (2.1), and Fort McMurray, AB and Fredericton, NB tied at fourth (2.2).