Vancouver: Less affordable than New York and London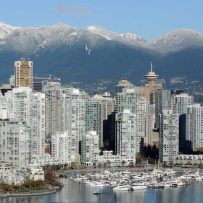 Story by: BNN.ca and wires
Vancouver is the third least affordable city in the world, a survey of nearly 90 global major metropolitan regions has found.
The median home in Vancouver costs almost 11 times the median annual pretax household income, according to the annual ranking by U.S.-based research firm Demographia.
"Vancouver continued to be among the most unaffordable markets. Vancouver's Median Multiple deteriorated from 10.6 in 2014 to 10.8 in 2015. This represents a more than doubling from the 1st Annual Demographia International Housing Affordability Survey [12 years ago]," the study's authors wrote.
The survey also notes that while the Vancouver market was rated by UBS as the world's fourth most vulnerable market to a real estate bubble, the city's housing prices are expected to continue rising.
Four of the five least affordable metropolitan markets in Canada were in British Columbia. They include Vancouver, followed by Victoria, the Fraser Valley and Kelowna.
Toronto ranked third least affordable out of all markets in Canada. Over the 12 years Demographia has been tracking data, Toronto home prices have surged 70 percent compared to household incomes, the study says.
Canada's most affordable markets were Moncton and Saint John, New Brunswick — which shared the top spot. They were followed by Fredericton; Saguenay, Quebec; Charlottetown; Trois-Rivières, Quebec; Windsor, Ontario; Thunder Bay, Ontario and Sudbury, Ontario.
The survey ranked Hong Kong as the least affordable city in the world, with the median home there costing 19 times the median annual pretax household income. Sydney, Australia was the second-most unaffordable market, while San Jose, California, ranked fourth. London ranked in eighth place.
The most affordable markets were in the U.S., including cities such as Buffalo and Rochester in New York state, Cincinnati and Cleveland in Ohio, and Pittsburgh in Pennsylvania.