Vancouver apartment buildings hot commodities as rents edge up amid vacancy squeeze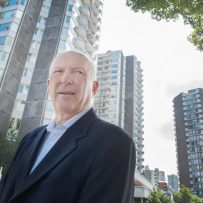 Story by Evan Duggan, Special To The Sun
Developers are not constructing enough rental stock to keep up with demand
Jacob Butula knows he has his work cut out for him. The 30-year-old graduate student is trying to relocate from Victoria to Vancouver this fall to continue his studies and to be closer to friends and family.
After spending a previous six-month stint as a renter in Vancouver, Butula knows how tough it is to find a decent apartment when Vancouver's rental vacancy rate is 0.5%.
"I expect to be competing with many other students who will also be looking for housing around the same time," he said last week. "I also expect I'll need to live a rather financially tight lifestyle or rapidly increase my student loan debt until I am on top of my graduate studies enough to get a part-time job."
Investors and developers are recognizing that there's a premium on market rental buildings in Vancouver. So far this year, buyers have been aggressively seeking rental apartment buildings as landlords earn well from chronic shortages and unyielding demand, according to a new report.
Over the first six months of this year, there have been 36 apartment building sales in the City of Vancouver compared to 30 in the same period last year, according to the July edition of the Goodman Report.
Across Metro Vancouver, approximately 155 apartment buildings are predicted to sell this year for a total of roughly $1 billion. That would be up from $778 million last year, according to the report.
In the City of Vancouver, 647 units have sold this year — a 24-per-cent increase over last year, with the dollar value of those sales climbing from $158 million to $215 million.
"It's not a huge increase. But it's an increase," said David Goodman, principal at HQ Commercial and the report's author.
Sales in the suburbs are cooler. Outside of Vancouver, 1,268 rental units have sold so far this year — a 7-per-cent drop from the first half of 2014. Total sales figures have also fallen outside of Vancouver, dropping by 14 per cent from $279 million to $240 million.
Goodman said the rate of new rental developments isn't expanding enough to ease the "shockingly low" vacancy rate in Vancouver. "I see it getting worse over the next year or so," he said.
A shortage of land, lack of cooperation from the provincial and federal governments, and municipal red tape is slowing down the development of market rental apartments, he said.
"The land that we have, of course, is battled over between citizens, the NIMBYs [Not In My Back Yard people], the developers, the council members, the planners," he said. "They all have a different take on how this land should be utilized."
With historically low interest rates, developers should be keen to build rental buildings in Vancouver, but it's not happening fast enough.
For its part, the City of Vancouver says renters' needs are a critical priority.
The current vacancy rate of 0.5 per cent is "definitely not acceptable," said Vancouver's chief housing officer, Mukhtar Latif. "A vacancy rate of 3-4 per cent is seen to be more healthy, and that's what we're striving towards. We will be looking at policies constantly to see how we can improve that."