Vancouver and Calgary among most attractive cities for newcomers, Conference Board finds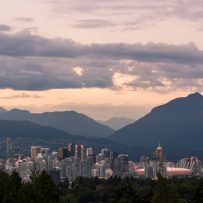 Story by: Kat Sieniuc | BuzzBuzzHome
Calgary with its jobs and steady incomes, Waterloo with its high-tech sector's reputation for innovation, and Vancouver with its overall high quality of life, all ring in as most attractive cities to live in for newcomers to Canada, a new study finds.
The Conference Board of Canada analyzed 50 of Canada's largest city for their attractiveness to migrants and found that Waterloo, Calgary, Ottawa, GTA suburb Richmond Hill, Vancouver, and St. John's were the most appealing to people new to the country.
The study measured city attractiveness based on seven categories, including society, health, economy, environment, education, innovation and housing, and found that, when choosing a place to live, newcomers most value cities that offer centres of innovation.
Toronto underperformed on innovation, health and environment to get an average rating, while Oshawa, Ontario came in last, the report said.
Here's how Canada's top cities performed:
Waterloo ranked first in education, second in innovation, and third in economy.
Calgary ranked first in both economy and innovation — only city to rank first in two categories — pushing it to the top tier of cities despite its weak results in education, health and environment.
Ottawa came out solid in society, education, innovation, and economy, although the city was weak in health, due to its low number of healthcare support workers.
The third-most diverse city in Canada, Richmond Hill, Ont. had strong results in education, innovation and society, as well as the highest number of graduates in engineering, science and math per capita.
Vancouver, with its overall high quality of life,  was strong on the society, education and environment fronts. One major drawback for the city, however, is its lack of affordable housing.
St. John's measured high in economy and ranked second in health, having the second-best ratio of general practitioners and specialists per 100,000 people.
Here's how the rest of Canada's cities performed in some of the major categories:
SOCIETY
When measuring access to transit and culture, diversity, poverty and crime, the country's largest cities rated highest: Toronto, Montreal, Vancouver, and Ottawa are the top four, followed the Greater-Toronto-Area cities of Markham, Richmond Hill and Brampton.
HEALTH
Small and mid-sized cities came in strongest for good access to healthcare–measured by the number of hospital beds, general practitioners and specialist physicians per a 100,000 population, as well as the proportion of population employed in health care services.
While Kingston and St. John's both ranked high, suburban cities fared the worst: Toronto's suburbs all received the lowest rankings.
ENVIRONMENT
Cities in British Columbia dominate the Environment category, making up half of the top 10 cities.
Environment ratings were calculated by looking at average monthly maximum temperature, domestic water use, number of days under Environment Canada's air quality advisory and driving distance to work for solo commuters.
Montréal and its suburbs Longueuil and Laval, have three of the six worst results on the environment–Montréal is the only city with a "D" grade–and Toronto and the suburbs of Oakville, Mississauga, and Vaughan were among the bottom eight cities.
These poor ratings can be attributed to too many air quality advisories and long, solo commutes, the study said.