National Report: Vacancy rate in seniors' residences drops in key regions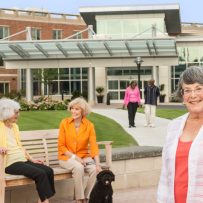 The vacancy rate for seniors' residences decreased modestly over the past year in Quebec, Ontario and British Columbia, according to the regional Seniors' Housing Reports released by Canada Mortgage and Housing Corporation (CMHC).
Highlights
Quebec
The vacancy rate in standard spaces dropped to 6.2% in 2017 from 6.8% in 2016 while that of non-standard spaces also dropped to 5.0% from 5.5% over the same period.

The capture rate dipped slightly to 17.9%.

The average rent for standard spaces stood at $1,678 per month while heavy care spaces rent climbed 6% to $3,200 per month.
Seniors' Housing Report — Quebec (PDF)
Ontario
The vacancy rate for standard spaces dropped to 10.4% in 2017, its lowest level since 2009, while the vacancy rate for all spaces declined to 10.3%, its lowest point since 2001.

Total supply of seniors' housing grew by 2.4% to 57,663 spaces in 2017, slower than the 2.9% growth rate in the over-75 population.

The average rent for a standard space increased to $3,526 per month, an increase of less than 1%.
Seniors' Housing Report — Ontario (PDF)
British Columbia
A growing seniors population in British Columbia supports increasing demand for seniors' housing.

The number of independent living spaces in British Columbia increased by approximately 500 units this year, compared with 2016.

The overall actual vacancy rate for independent living spaces in seniors residences in British Columbia declined by 2 percentage points this year, compared with 2016.
Seniors' Housing Report — British Columbia (PDF)
As market forces and conditions vary by region, the national Seniors' Housing Report is discontinued. To enhance CMHC's market analysis, there are now five regional reports.