Upcoming Industry Events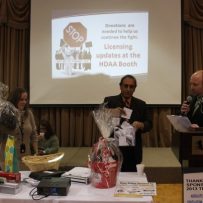 LPMA – Members' Dinner and General Meeting
Tuesday,  March 10  –  London
The London Property Management Association (LPMA) will host its members' dinner and general meeting on March 10 from 5:30 to 8:30 pm. The dinner sign in and networking portion of the evening will take place from 5:30 to 6:00 pm. Dinner will commence at 6:00 pm, and from 6:45 to 7:00 pm the general meeting sign in and networking will occur, with the general meeting to follow.
James Hind from the London Fire Department, David Ellyat from London Police, Kristin Ley, a lawyer from Cohen Highley LLP, and Shannon Kiekens, a paralegal from Cohen Highley LLP, will form a panel to answer questions regarding fire safety, domestic violence situations and noise complaints.  Registration is available online at: http://lpma.ca/event/members-dinner-general-meeting-2/
PPMA – Suite Living Trade Show and Conference
Tuesday, March 10  –  Winnipeg
The Professional Property Manager Association (PPMA) will host Suite Living Trade Show and Conference on March 10 from 8:00 am to 4:30 pm at the Victoria Inn Hotel & Conference Centre, 1808 Wellington Avenue. There will be sessions on Building a Tenant File, Human Rights, Time Management and Civility at Work. Visit www.ppmamanitoba.com to register. For more information, contact Dianne Casar at info@ppmamanitoba.com.
WRAMA – General Membership Meeting
Wednesday, March 11  –  Kitchener
The Waterloo Regional Apartment Management Association (WRAMA) will hold a general membership meeting on February 11 at the Golf Steak House, 598 Lancaster Street West in Kitchener. Dinner will be served at 6:00 pm, and the 2-hour seminar will take place at 8:00 pm. For more information, call 519-748-0703, or email membership@wrama.com.
HDAA – Trade Show
Wednesday, March 11  –  Hamilton
The Hamilton and District Apartment Association (HDAA) is hosting a VIP cocktail reception prior to the 2014 Trade Show from 5:30pm to 6:30pm. This special, free event is for landlords, property managers and owners in the Hamilton area. There will be draws with a chance to win an IPad touch, and other prizes. Tickets for this exclusive party are available now.  Contact Paul McAlister at hamaptass@gmail.com for details. Space will be limited so make sure you are on the list.