U.S. will get 'hammered' in global trade war: Barton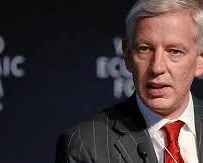 The chair of the Prime Minister's economic advisory council says the United States could be one of the biggest losers in the event of a global trade war.
"Hopefully, [that] common sense prevails, because trade wars don't help anyone, particularly the United States," McKinsey global managing partner Dominic Barton told BNN Bloomberg on Friday.
"The United States is going to get hammered. You've heard the United States Chamber of Commerce and what they're saying on this. This is like kneecapping yourself," he added.
The Trump administration imposed tariffs on US$34 billion of Chinese imports at 12:01 a.m. on Friday. China retaliated with higher levies on American goods, everything from soybeans to automobiles.
Earlier this week the U.S. Chamber of Commerce issued a report denouncing the Trump administration's trade policies and warned tariffs imposed by Washington as well as retaliation from trading partners would boomerang badly on the U.S. economy.  
Barton said businesses need to consider both the long and short term when preparing for the escalating trade tensions.
"We've got to hope that there's going to be, you know, judgment that's going to be applied and therefore don't do anything dramatic and think about, long term, how it's going to play," he said.
"That said, you have to have a short-term view in terms of your supply chain… So people are putting in place tariff teams, if you will, tariff task forces to really look and say: 'How are we going to move if X, and Y, or Z happens?'"
Increased global uncertainty over trade could have a negative impact on business investment in Canada, Barton said.
"This trade situation – globally, not just with NAFTA – is very troubling and concerning because uncertainty reduces people's desire to invest, because they just don't know how it's going to pan out," he said. "The longer this goes on, I think an even bigger impact is going to be on the business investment side."
Barton said there are a number of actions Canada can take as it continues to try to reach common ground with the U.S. on a new North American Free Trade Agreement. However, Canada should also explore greater trading relationships with major Asian markets, investment in innovation, and greater regulatory certainty being key to increasing foreign investment during mounting uncertainty, he said.
The other key factor, Barton said, was to be aggressive in getting the message out that Canada is "open for business."
"The other part we have to be prepared for is [to] be out in the markets actually, as a government to say: 'We're open for business. We want people to invest in here,'" he said.
"We have to be quite aggressive, because Trump is doing that in his own way."