U.S. Multifamily Developers Push the Limits on New Construction – 400,000 Units Planned for 2015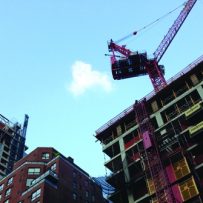 Hang on tight—optimistic projections that apartment markets can absorb high levels of new construction are going to be tested soon. Developers will start construction on 405,000 units of multifamily housing in 2015, according to the 2015 Dodge Construction Outlook. To fill all of these new units, they will need all of the increased demand that markets analysts are hoping for, as a healing economy helps young people now living with parents or roommates to form their own households.
The U.S. economy has created more than 200,000 new jobs a month for most of 2014. If the recovery continues, new household formation will support strong demand for multifamily housing of more than 400,000 units a year from 2015 to 2017, compared to the average of just 296,000 apartments completed annually from 2012 to 2014, according to data firm RCLCO, a real estate advisory firm.
"Demographics are supporting demand," says Ryan Severino, senior economist with New York City-based research firm Reis Inc. "The most common age in the United States is 22, followed closely by 23, and then 21. There are a lot of young people in the market that are predominantly renters and not homeowners. This will continue to provide significant demand, even as new supply growth accelerates."
Building more and more
Developers seem to have quickly built this potential demand booth into their business plans. The prediction from Dodge that developers will start work on 405,000 apartments next year would be a big increase after an already busy year in 2014. Developers started construction on new multifamily projects at a seasonally adjusted annual rate of 360,300 in the third quarter of 2014, up 3.9 percent from the second quarter, according to data from the National Multifamily Housing Council (NMHC). That's up 33.6 percent compared to just a year ago.
Developers took out permits to build new apartments at a seasonally adjusted annual rate of 370,000 in the third quarter, representing little changed (0.2 percent) from the previous quarter, but up 14.4 percent from a year ago, according to NMHC data.
The number of new apartments completed in 2014 is also growing. The number of apartments completed by developers reached a seasonally adjusted annual rate of 294,000. That's up 27.3 percent from the second quarter and 54.5 percent from third quarter of 2013. It's also the fastest rate of completions since the second quarter of 2009, according to NMHC.
Developers are able to build all of these new projects largely because banks are willing to give them the money for construction.
"Financing for construction projects is becoming more available, reflecting some easing of bank lending standards, a greater focus on real estate development by the investment community and more construction bond measures getting passed," said Robert Murray, chief economist and vice president with Dodge Data & Analytics. "Interest rates for the near term should stay low."
There were 11 multifamily projects valued at $100 million or greater that reached groundbreaking in the most recent month, with the top three as follows: a $433 million high-rise in New York City, a $272 million high-rise in Brooklyn, N.Y. and a $200 million high-rise in Miami.
The top five metropolitan areas for multifamily construction starts (in dollars) through the first 10 months of 2014 were New York, Miami, Washington DC, Los Angeles and San Francisco, according to Dodge. Metropolitan areas ranked six through 10 included Boston, Dallas-Ft. Worth, Philadelphia, Seattle and Houston.
Story by: Bendix Anderson | National Real Estate Investor