U.S. INVESTMENT GIANT BLACKSTONE'S EXPANSION INTO CANADIAN REAL ESTATE RAISES CONCERNS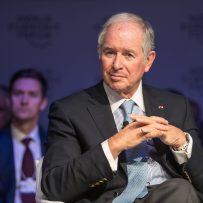 Blackstone, a New York-based company that manages US$881 billion in assets, has decided to finally open its first brick-and-mortar office in Toronto, with the intention of expanding its real estate holdings.
The U.S. giant already has seven offices in the United States, 10 offices in Asia and seven in Europe.
Why Canada?
"We have spent a lot of time in Canada over the years and now is the time to have a senior member on the ground in the country," a Blackstone spokesperson said in an email.
The company hired Janice Lin to lead its real estate business in Canada. Lin previously served as chief investment officer at Revera, a global retirement living business with residences throughout Canada, the U.S. and U.K.
The spokesperson said "the strength of the Canadian economy," the nation's "world class cities" and "favourable immigration policies" were the reasons behind its move into Toronto.
"Canada's population growth is the highest among G7 nations and is nearly double that of the U.S. In addition, our real estate assets in Canada consist primarily of logistics, a segment which continues to thrive," the spokesperson added.
For some, the news amounts to yet another typical expansion of a big company. However, there are others who are skeptical of Blackstone's move amid the country's continuing housing affordability crisis.
The commodification of housing
Geordie Dent, executive director of the Federation of Metro Tenants' Associations, believes that Blackstone's move isn't good news for everyday Canadians.
"Having the [Canadian] office doesn't really matter, but it's the purchasing of assets and the intrusion into the real estate market that we're very, very concerned about."
Dent has two reasons for concern.

"Blackstone has a terrible reputation of causing major damage in the real estate market," he said.

He cited "Push," an investigative documentary by award-winning Swedish director Fredrik Gertten. The documentary explores the commodification of housing around the world, citing examples such as New York and Toronto.

"They had a whole section that dealt with Blackstone's purchase of 50,000 single-family homes in the United States, and how it drove up rents and housing prices," Dent said.

In New York, one man couldn't afford rent that was raised to 90 per cent of his income after Blackstone acquired a Harlem project he lived in.

For Dent, the second reason for concern is the "continuing trend of financialization of housing."
That scenario means housing isn't treated as infrastructure or even a long-term investment, but as a commodity to be traded, explained Dent."You get really dangerous outcomes with that," he said.

"In our experience, there's a number of buildings that we've been organizing in the last five years that are half empty, and they're being kept empty because it's actually better for the company to keep them half empty, and increase the value of the asset to kind of sell and trade."

When asked about what he means by "organizing," Dent explained that the Federation of Metro Tenants' Associations "helps the tenants work together to fight various issues: above guideline rent increases, repair issues, illegal charges."
Some of these buildings are in downtown Toronto."The Chalkfarm complexes and 666 Spadina come to mind," he said.
Blackstone is now more 'direct'
But there are others who might not see Blackstone's move as a drastic change.
According to Daniel Foch, a broker and real estate analyst with Foch Family Real Estate, Canada's real estate industry has been attracting American funds for a while.
But what makes this move "interesting" is that Blackstone is being more "direct" now with their operation in Canada.
"They're doing it much more intentionally and out in the open," he said. "Blackstone has been involved in [Canadian real estate investor] Starlight and purchased a few other Canadian REITs [real estate investment trusts] in the past, but they haven't had a 'boots on the ground' presence and acquisition strategy in Canada.
"To me it signals that they're anticipating there will be some good deals to be found in Canadian real estate this year," he added.In a joint venture with Starlight, Blackstone purchased five properties in Toronto and one in Montreal in 2018, marking its first move into the Canadian apartment rental market.

In March 2019, Starlight Investments — an affiliate of Blackstone Property Partners — announced they jointly purchased eight Toronto-area apartment buildings, their second major Canadian transaction.
Focus in on logistics, offices, multi-family residential
Blackstone's spokesperson explained that the company's strategy is to take a "long-term view" with its focus on "building and acquiring resilient businesses," with no interest in investing in single-family rentals or individual homes in the country.
"Our focus in Canada will continue to be on investing in logistics, high quality creative offices and life science offices, studios and multi-family (which includes condo and rental) residential," the spokesperson said."Our real estate assets total approximately 450 properties – over 75 per cent of which are concentrated in logistics," the spokesperson added.

The pandemic has lent its full weight to e-commerce, creating more demand for industrial land and warehouse space. In May, Re/Max Canada published a report saying that demand for industrial land and warehouse space in the nation is at an all-time high.

However, critics such as Dent remain skeptical.

Asked if this move shows that Canada is now "hot" for such a big player, Dent replied, "It's been that way for years."
He points to major landlord Akelius, which moved into the Canadian market in 2011."They were a disaster then, they're a disaster now," he said, citing issues with legality and the company "trying to push people out and raise their rents…

"This isn't new, this is just another company coming in, trying to capitalize off of what we consider to be just bad government policy that's geared toward companies making money."

Headquartered in Sweden, Akelius is considered to be that country's largest multi-residential landlord, and one of the largest private owners of rental properties worldwide.

Akelius owns more than 51,000 properties valued at around US$9 billion in Sweden, Canada, Germany and the United Kingdom. It owns more than 3,500 apartment units in Toronto and about 3,900 in Montreal.

In 2020, the UN's special rapporteur on adequate housing accused Akelius of "renoviction," the act of pushing out renters to renovate units and then charge higher rents.

Foch believes Blackstone won't make the leap to investing in family housing. However, the increasing presence of large real estate buyers such as Akelius will only help fuel skepticism about Blackstone's intentions in Canada.
Story by: Winnipeg Sun