TURN YOUR LAUNDRY ROOM INTO AN AMENITY TO ATTRACT AND RETAIN RESIDENTS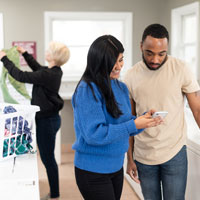 It's easy to forget sometimes that the rental housing business is competitive. Renters come and go. But maybe they don't have to!
If you view your market as competitive, it becomes easier to look at your own property with new eyes. Are you positioning the property to not just attract new residents, but also providing the services and environment to retain them? If the answer is no, it's time for a refresh.
One area that can pay dividends in attracting and retaining residents is the laundry facility. Not convinced? We can take a cue from facilities managers in the college and university realm. Many count the laundry room of the residence hall as important to new students and have now included them on the campus tours. It's certainly no stretch that prospective renters of your apartment building place the same importance on the laundry facilities.
The basics
Before investing in new equipment and technology, make sure you are taking care of the basics in your community laundry room. Residents want to feel comfortable and safe. A fresh coat of paint and new lighting are inexpensive projects that can have a significant impact on the overall look and feel of the laundry room.
Obviously, with COVID-19, clean is non-negotiable, but your laundry should always make this a focus. Floors, tables and machines should all be exceptionally clean. Consider setting a regular schedule for cleaning the laundry room. If residents feel the need to rewash an item that was dropped on the floor, it's time to take a look at the impression your laundry room is making.
Commitment to service
When it comes to laundry equipment, the best advice is to work with a high-quality laundry service provider. Nothing steals confidence away faster than out of order signs. It's important to select a service provider who not only offers highly reliable equipment, but backs it up with a fleet of well-stocked service vehicles manned by factory-trained technicians.
Technology can further streamline service. For example, having service alerts that can be sent directly to your laundry service provider – meaning service can often be addressed before the property manager is even aware there was an issue.
Make it an amenity
Reliable equipment is definitely a prerequisite for any community laundry room. However, if your property is to stand out in the market and attract and retain residents, it's time to up your game.
App-based payments have quickly caught on in the laundromat world – your competition. By leveraging similar technology, your property stands a better chance of keeping residents on-site on laundry day.
With the latest app technology, residents can add funds to their mobile wallet from their apartment before coming to the laundry room. Once they go to the laundry room, they can proceed immediately to the washer to load, select the wash cycle, and use their app to pay. With the mobile app, there's no guesswork on when to return to the laundry room; they can opt to receive a text message when their cycle has ended.
At the root of all this technology is the equipment and the quality results it provides. To become an amenity that attracts and retains residents, the laundry has to have options… just like your laundromat competition does. Giving residents a variety of cycle options to tailor their loads helps set your facility up for success. Premium wash options, such as hot water washes and extra wash or rinse, deliver cycle flexibility to residents as well as increased revenue.
As consumers, we are all looking for a better customer experience. Businesses that deliver on that experience are best positioned to reap the rewards. The same holds true in multi-housing. With a focus on partnering with a quality laundry service provider, and installing reliable equipment connected with cutting-edge technology, properties can turn their laundry rooms into amenities that help attract and retain residents. From there, it's about a commitment to keeping the space as clean as possible.
A full-solution approach takes the chore out of the laundry task, giving you happier residents and ultimately, longer-term renters.
Story By: Huebsch® Quantum Gold Pro controls